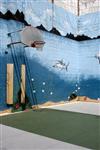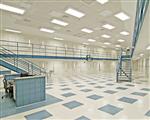 The Prince William – Manassas Regional Adult Detention Center conducts tours of the Adult Detention Center for adult students law enforcement candidates and similar organizations. Facility tours may be a valuable learning experience and can assist in orienting members of the community to the Adult Detention Center.
Procedures and policies for jail tours:
To schedule a tour contact the Director of Security at 703-792-6494 Monday through Friday 8 a.m. – 4 p.m.
An orientation will be given prior to the tour.
Handbags cameras weapons of any kind tobacco products, lighters, matches, and keys will not be permitted into the secure areas of the facility.
All tour participants are subject to search.
All tour participants must be at least 18 years old.
Any visitor under the influence of drugs or alcohol will be denied access.
Visitors must wear appropriate attire while on tour.
Tours for the media are to be approved by the Superintendent.
In the event of a disruption of normal activities within the facility, the tour may be suspended.
The tour may consist of the following: an example of inmate living areas the kitchen, laundry, and Control Center.
Also, an inmate may share life experiences with tour participants.
Visitors will not communicate with inmates unless permitted by jail staff. No items are to be passed to the inmates.
Visitors are to remain in a group during the tour.