SCHEDULE
THE MOSQUITO SURVEILLANCE PROGRAM FOR THE 2021 SEASON HAS BEGUN. PLEASE CALL 703-792-6279 OR EMAIL
[email protected] IF YOU HAVE ANY QUESTIONS OR CONCERNS.
The following spray blocks are scheduled to be adulticided: We will update the below chart before each fogging event.
| | |
| --- | --- |
| 6-1-21 |                  16,17,18 |
| 7-29-21 |                  21,62,86 |
| 8-2-21 |                  82,95 |
| 9-27-21 |                  113,114,124 |
The following spray blocks are scheduled to be wide area larvicided by truck mounted sprayer: We will update the below chart before each event.
For more information about the larvicide please see the CDC fact sheet here and the EPA fact sheet here. 
Submit a request for service regarding mosquito or forest pest concerns online or to contact us directly with any larvicide questions. 
PROGRAM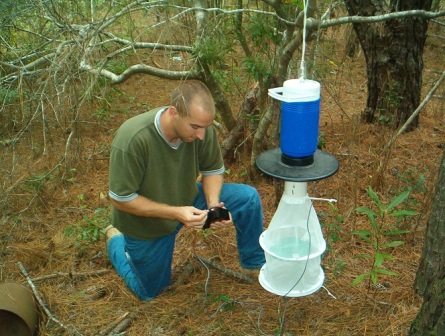 The Prince William County Mosquito & Forest Pest Management Branch typically applies larvacide for mosquitos Monday through Friday throughout the mosquito season. They will spray (adulticide) as needed at night but can also occur during the daytime. There is no set schedule or order in which the blocks are sprayed. Rather, there are criteria established by the branch that trigger mosquito spray in a given area or neighborhood.
One trigger that could result in mosquito spray is based on surveillance trapping of adult mosquitos. If a threshold number of female mosquitoes is met or exceeded on a given night, this can trigger mosquito spray for that trap area. Another trigger for mosquito spray is that the mosquitoes caught in a trap area test positive for West Nile Virus. For information on the Zika virus, click here.
The ideal or most efficient form of mosquito control includes treating or larviciding immature mosquitoes in standing water.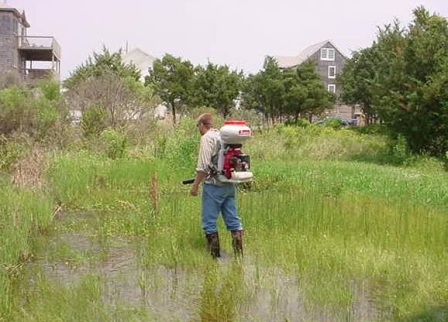 Adult mosquito spray is limited in its affect on adult mosquitoes. The spray only affects adult mosquitoes that are out flying and come into contact with the spray at the moment it is being sprayed. The spray does not affect mosquitoes that are not active, at rest at night, or do not come into contact with the spray.
One of the most numerous and problematic mosquito species in Prince William County is not affected by spray, since it is inactive, or at rest during the evening and nighttime hours. That species is the Asian Tiger Mosquito. This species is among several found in the County that breeds in artificial or man-made containers, and is extremely difficult to control. You can help eliminate Asian Tiger Mosquitos by making sure containers that hold a tablespoon or more of water are emptied or flushed out at least once a week.