Take the Challenge! Read 100 books before you graduate from high school. For students in grades 9 – 12.
What's in it for me?
Reading improves your vocabulary and test scores. Plus, reading prepares you for life after high school while helping you become a more creative, open-minded person.
For every 25 books you read, you'll get a prize and an entry for an Apple Watch.
At 100 books, you'll receive a college supply kit and a Certificate of Completion.
How do I start?
Create an account on online or download the Beanstack app on your smartphone to get started.
Log your books through Beanstack.
Read books from this list of suggestions or choose your own.
We'll keep track of the number of books you read and will send you an email when you earn another prize and drawing entry.
Come in to any library at 25, 50, 75, and 100 books for your prizes and final reward.
Tag us in your reading adventures! #100Books
Is there anything else? Yes!
Writing reviews also earns additional entries into the grand prize drawing. We might even publish your review on our Goodreads page!
Come to our libraries for free Adulting 101 programs to learn new skills and life hacks.
Check out our DIY resources and booklists available on the Young Adult web page.
GOLD SPONSORS ($2,500+):
SILVER SPONSOR ($1,000 - $2,499.99):
BRONZE SPONSOR ($.01 - $999.99):
Bel Air Woman's Club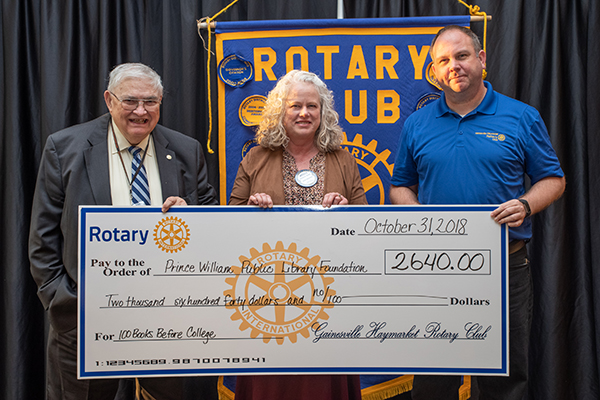 Left to right: William Glenn Yarborough, Jr., District Governor 2018-2019, Jessica Scalph, Haymarket Gainesville Library Administrator, Christopher Albright, President, Gainesville - Haymarket Rotary Club