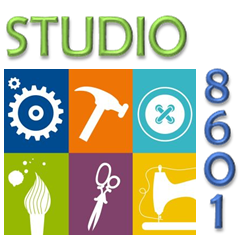 What is a Makerspace?

A Makerspace is an independent workspace inside the library that provides patrons with a variety of machines, tools and technology to explore, build, collaborate and create. Central Library's Makerspace, Studio 8601, is designed for patrons 12 years old and older.
What is in the Makerspace?
3D Printer: Studio 8601 features two 3D printers: a Makerbot Replicator+ and an Ultimaker 2. Unlike other tools and machines in the Makerspace, it will be operated by staff only. Patrons who would like to utilize one of the printers should bring a USB stick with saved files or have the ability to access their files from email. Files MUST BE .STL files and require no more than two hours printing time. Also available: 3D pens.

3D Pens: Patrons can use the 3D Pens on their own. PWPL provides the filament for the pens.
Cricut Maker and Cricut Air: Central's Makerspace has one Cricut Maker and two Cricut Airs. Patrons should bring their own materials (paper, vinyl, or fabric). Users can save time by downloading the Cricut Design app on their smart device or computer and designing their project prior to their appointment. Patrons can bring project files on a USB.
Craft and Jewelry Supplies: The Makerspace has paper supplies, stamps and inks, wires, pliers, clasps, and some beads.
Embroidery Machine: Studio 8601 has two Brother embroidery machines and some available thread.
Loom: A Rigid Heddle Loom is available and some yarn supplies are provided.
Sewing Machine: There are six Singer 4452 sewing machines, an iron and ironing board, needles, threads, cutting mat, and scissors available. Patrons should bring their own patterns and materials.
Tech and Coding Toys: Learn to code with an Arduino starter kit, Chibi Chip starter kit, Ozobot Bits, and a Sphero Bolt. Also available: SNAP circuits, an electronic drawing tablet, photo scanners, and an opaque projector.
Whisper Room: Patrons can record audio, video, music and podcasts with the available keyboard, mics, and mixer board. Patrons should bring their smart device, but will also have access to a Macbook and recording software.
Hours of Operation
Makerspace Studio 8601 Hours of Operation: Tuesdays, 2:00 – 7:00 p.m. Thursdays, 11:00 a.m. – 4:00 p.m.
Yes! Some familiarity with our equipment is necessary at this time. Once the Makerspace is available for in-person programming (post-COVID), be on the lookout for How To programs featuring our Makerspace equipment!
Some limited materials are provided: thread for sewing and embroidery, yarn for the loom, stamps and ink, some fabrics, paper, and vinyl. Single-color, gray filament for the 3D printers is provided (stay tuned for other colors). The printers only print one color and projects are limited to a maximum two-hour printing time.
There will always be a staff member in Studio 8601 during open hours. We cannot guarantee that staff will always be available to provide expert assistance with every device and tool, but we are committed to helping our Makerspace patrons create and explore and make the most of this exciting new library space!
There is no charge to use any equipment or materials in Studio 8601.
Due to safety and liability concerns, no children under 12 are allowed in the Makerspace.