Due to the COVID-19 pandemic, all summer Virginia 4-H in-person camps are canceled. We are taking this difficult but necessary measure to ensure the safety of our campers, their families, and our 4-H community. Anyone that made deposits or payments will receive a refund. Prince William 4-H is currently working on alternate summer programming. Thank you for your cooperation as we get through these unprecedented times together.
---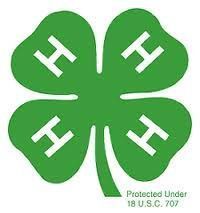 DO YOU WANT TO HAVE FUN, MAKE NEW FRIENDS AND LEARN NEW THINGS? 4-H IS THE PLACE FOR YOU! IN 4-H, YOU LEARN THROUGH EXPERIENCE WHILE WORKING WITH OTHER KIDS AND ADULTS WHO CARE ABOUT YOU! THE PRINCE WILLIAM COUNTY 4-H PROGRAMS OFFER YOUTH AGES 5-18 OPPORTUNITIES TO GAIN KNOWLEDGE, LEADERSHIP SKILLS AND COMMUNITY SERVICE EXPERIENCE THROUGH HANDS-ON PROJECTS AND ACTIVITIES. 4-H IS SPONSORED BY THE U.S. DEPARTMENT OF AGRICULTURE, THE COMMONWEALTH OF VIRGINIA, VIRGINIA COOPERATIVE EXTENSION AND BY LOCAL GOVERNMENT. 4-H GOAL: TO HELP YOUNG PEOPLE GROW INTO CAPABLE, RESPONSIBLE, CONFIDENT MEMBERS OF THEIR COMMUNITIES BY PROVIDING INFORMATION, OPPORTUNITIES, ACTIVITIES AND EVENTS WHICH ARE EDUCATIONAL, DEVELOPMENTAL AND FUN.
4-H Pledge: I pledge My head to clearer thinking, My heart to greater loyalty, My hands to larger service and My health to better living; for my club, my community, my country and my world.
4-H Motto: To Make the Best Better
RESOURCES:
Help us go GREEN and save a tree! For electronic 4-H updates, register at eNotifications.
4-H Virginia Cooperative Extension 8033 Ashton Ave., Suite 105 Manassas, VA 20109 703-792-6286 [email protected]
Virginia Cooperative Extension complies with the Americans with Disabilities Act. If you are a person with a disability and require auxiliary aids services or other accommodations for a workshop or meeting please discuss your accommodation needs at least five days prior to the event with Virginia Cooperative Extension 703-792-6289/TDD PC 1-800-828-1120.