Formerly known as National Garbage Man Day
Prince William County residents, businesses and organizations are encouraged to celebrate National Waste and Recycling Workers Week, June 14-20. Formerly National Garbage Man Day, it is the brainchild of John Arwood, an owner of a waste and recycling collection company in Florida. He selected June 17 and it officially started in 2013. According to an article published in Waste Advantage, May 2017, Arwood notes that the day was recognized with its first proclamation by Prince William County, VA in 2014.
Hundreds of proclamations later, National Garbage Man Day was rebranded in 2020 as National Waste and Recycling Workers Week. Although the name has changed to better represent the whole solid waste industry, the focus of appreciation and celebration of the entire industry has not. Additionally, instead of one day there is now an entire week, which gives communities, companies, and organizations more time to recognize the importance of solid waste management industry and particularly their trash and recycling collectors' vital contributions to public health.
Trash and recycling collection are a critical and essential service and part of the response to the COVID-19 pandemic. The men and women working in the waste and recycling industry are on the frontlines protecting human health and the environment.
 In addition to collecting trash, the employees of the solid waste industry are also pioneers in advancing technologies such as recycling, renewable and sustainable energy, and fossil fuels dependence reduction. Match that with the clear impact on city cleanliness and hygiene, and it seems the modern-day waste and recycling workers should receive a little more than our trash every week.
Even though the annual celebratory recognition of collection company employees at the landfill is not possible, there are many ways that residents and businesses can show support and appreciation during the week of June 14-20 and beyond for the people doing these important, but dangerous jobs.
• Slow down and pay extra attention when approaching or passing a collection vehicle.
• Wave to your collector (keep six feet distance) to show your awareness and appreciation of their efforts.
Image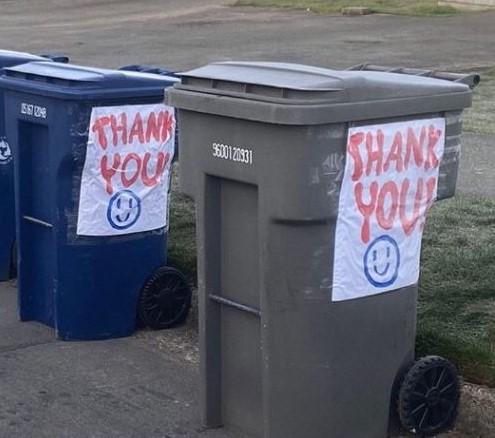 • Follow the provided guidelines for size and weight limitations and types of materials discarded in the regular trash and recycling bins.
• Properly dispose of hazardous materials, do not put them in the trash.
• Use more caution when putting harmful items in the trash such as glass or hot ashes.
• Consider ways you can reduce, reuse and recycle the things at home, school and work instead of throwing them in the garbage.
• Express thanks and appreciation with a chalk drawing on the sidewalk or driveway, or a cardboard sign, banner taped to your trash cart/can.
• Give the landfill attendants an air "high five".
Other tips to help keep collection workers safe during the COVID crisis:
• Wash your hands before putting your waste containers out for collection. Sanitize or wipe handles and lids to further reduce exposure.
• Make sure all trash is in a bag and bags are securely closed.
• Do not set bags outside the cart.
• Do not "spring clean" at this time. Collection workers are working harder and more carefully right now, sometimes with fewer people. Do not add to the waste by cleaning garages, attics, closets, basements, etc.
• Grass cycle- leave grass clippings on the lawn instead of bagging them to reduce the need for yard waste collection and fertilize naturally.
Go to National Waste and Recycling Workers Week website to learn more about the week and how to show support for these essential workers. You can also send your celebration ideas and photos to [email protected].