The draft 2021-2024 Strategic Plan and Strategic Plan presentation were presented to the Board of County Supervisors on May 11, 2021 and is now available for community review and feedback. To provide feedback:
Send an email to

[email protected]

, or
Leave comments on Speak Up! Prince William, or
Send an email to your respective district Board of County Supervisors member.
The written comment period ends on May 31, 2021.
The BOCS will also hold a public "listening session" on the draft Strategic Plan in June 2020. Please return to this page for more information about the specific date and how to register to speak at the listening session.
2021-2024 Strategic Plan Development Process
The Board of County Supervisors (BOCS) approved the 2021-2024 Strategic Plan Development Process at its January 28, 2020 work session. As the strategic planning process unfolds, we will:
Image

Convene a strategic plan development team comprised of residents and county staff
Residents

Staff

At-Large
Joyce Connery

Community Services
Lisa Madron

Brentsville
Tahari Johnson

Criminal Justice Services
Tomaudrie Thomas

Coles
Martin Jeter

Department of Parks, Recreation & Tourism
Ann Marie Maher

Gainesville
Rick Berry

Planning
Bryce Barrett

Neabsco
Mary Beth Michos

Police
Jarad Phelps

Occoquan
Andra Hoxie

Social Services
Courtney Tierney

Potomac
Corey Holeman (Withdrew)

Transportation
Paolo Belita

Woodbridge
Larriette Thompson

 
Previous Meetings 

Wednesday, September 2, 2020 - 4 p.m.
CANCELED
Wednesday, July 08, 2020 - 2 p.m. 
CANCELED
Image

Use community input to identify focus areas and priorities for the next Strategic Plan.
Community Conversation 
Click linked dates below to read notes taken from that meeting.
Image

Strategic Plan Development Team will devise a draft of the updated Plan, based upon BOCS direction. Below is the draft Plan and presentation presented to the BOCS on May 11, 2021.
Image

Solicit feedback on the draft Plan from the community and the BOCS before finalization and adoption in December 2020.
COVID-19 Impact: Strategic Plan Development Process Timeline
The Strategic Plan Development Process timeline is impacted by COVID-19. A revised timeline was presented to the BOCS on June 2, 2020. The presentation to the BOCS and the previous timeline are available below:  
Stay in the know with occasional updates by returning to this page. For more information, please contact Kaye Wallace, Strategic Plan Coordinator, at [email protected].   
2017-2020 Strategic Plan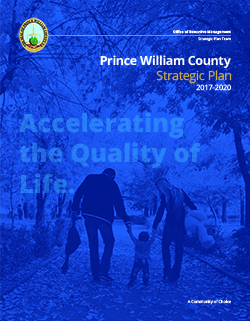 The Prince William County Strategic Plan is a four-year, community-based document adopted by the BOCS. The Strategic Plan reflects the community's vision and desired outcomes. It is an important aspect of Prince William County government's management approach and provides key policy guidance for service delivery and resource allocation decisions.
The County's first Strategic Plan was adopted in October 1992 and guided the County from 1992-1995. That first plan, and each subsequent plan, covered a four-year period tied to the BOCS' term of office.
The BOCS adopted the 2017-2020 Strategic Plan on Tuesday, January 24, 2017. The adopted strategic goal areas include Robust Economy, Mobility, Wellbeing, Safe & Secure Community, and Quality Education & Workforce Development. The plan also includes a strategic priority of Connectivity. The current Strategic Plan is based upon the goals of the Prince William 2030 Future Report and the Comprehensive Plan, both of which provide perspectives on where the community should be in year 2030. The Comprehensive Plan goals relate to the physical makeup of the community and the infrastructure necessary to support that, while the Future Report addresses social and civic as well as physical goals.
Strategic Plan Updates
Any Questions?
Do you have questions or comments about the Strategic Plan?
Details regarding the 2017-2020 Strategic Plan, updates, and  previous strategic plans are available when you visit Archives.