Image

Adopted 2021-2024 Strategic Plan
The Board of Supervisors adopted the 2021-2024 Strategic Plan on July 20, 2021.
2021-2024 Strategic Plan Development Process
From June 2020 through July 2021, the Strategic Plan Development Team engaged in a 100% virtual process to gather community input, research information about county policies and services, analyze data, and draft the Strategic Plan. Community outreach consisted of an online survey and virtual community conversations with residents, business owners, and non-profit organizations. The county also hired a consultant to conduct individual telephone interviews with the Board to collect each member's input on strategic priorities. The Strategic Plan Development Team devoted over 1,350 hours to development of this Strategic Plan.
The draft 2021-2024 Strategic Plan and Strategic Plan presentation were presented to the Board of County Supervisors on May 11, 2021. The draft plan was posted on the County's strategic plan webpage as well as Speak Up! Prince William for a public review and comment period from May 11 – June 22, 2021.  The Board also held a public listening session to hear comments from the community at its 7:30 p.m. meeting on June 22, 2021. The Strategic Plan Development Team subsequently reviewed all written and verbal feedback and used it to make final edits to the draft 2021 – 2024 Strategic Plan.
The Strategic Plan Development Team Meeting Minutes.
COVID-19 Impact: Strategic Plan Development Process Timeline
Image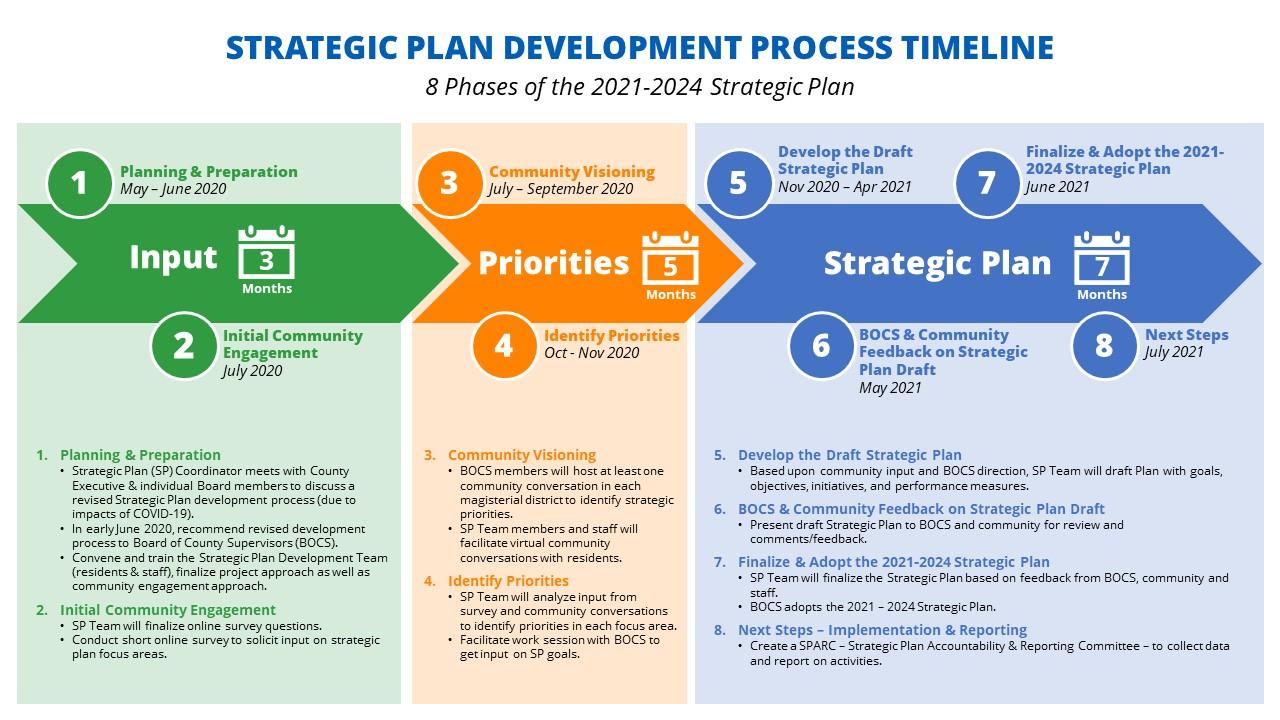 Stay in the know with occasional updates by returning to this page. For more information, please contact Kaye Wallace, Strategic Plan Coordinator, at Strategic Plan Coordinator.  
Any Questions?
Do you have questions or comments about the Strategic Plan?
Details regarding the 2017-2020 Strategic Plan, updates, and previous strategic plans are available when you visit Archives.