GENERAL DISTRICT COURT
Prince William County General District Court judges conduct hearings for civil, traffic, and criminal misdemeanors, and preliminary hearings for felony cases.
---
COVID - 19 UPDATE
THE GENERAL DISTRICT COURT WILL BE RESUMING COURT DOCKETS AND OPERATIONS BEGINNING JUNE 2020. IN AN EFFORT TO KEEP EVERYONE SAFE, THE COURT HAS REORGANIZED AND SEGMENTED DOCKETS IN ORDER TO ACCOMMODATE FOR SOCIAL DISTANCING AND AVOID THE COURTS FROM BEING OVERCROWDED. THE DOCKET TIMES ESTABLISHED AT 9:00 A.M., 10:00 A.M., 10:30 A.M., 11:00 A.M., AND 11:30 A.M. WILL CONTINUE UNTIL FURTHER NOTICE. WITH THE CONTINUED JUDICIAL STATE OF EMERGENCY AND UPON THE RISING PUBLIC HEALTH RISK ASSOCIATED WITH COVID-19, A TEMPORARY OPERATING PROCEDURES ORDER HAS BEEN ENTERED WITH AN EFFECTIVE DATE OF DECEMBER 7, 2020. PLEASE SEE ATTACHMENT.
YOU MAY CHECK CASE STATUS INFORMATION ONLINE AT WWW.VACOURTS.GOV OR CALL THE CLERK'S OFFICE AT 703-792-6141. PLEASE BE AWARE AND CONSIDER THAT ALL OPERATIONS AS NORMAL MAY NOT RESUME IMMEDIATELY OR SOME OPERATIONS MAY BE ALTERED DURING THIS TIME OF COVID-19. WE ARE DOING WHAT WE CAN TO KEEP EVERYONE'S HEALTH AND SAFETY IN MIND. WE CONTINUE TO ASK THAT YOU RESPECT THE FOLLOWING GUIDELINES FOR VISITING THE COURTHOUSE:
Do not bring additional individuals with you to Court such as family members, friends, or children.
Check the paper docket posted at the entrance to confirm your court date, time, and courtroom prior to entering the courthouse.
Please do no enter the building more than 15 minutes prior to your scheduled court time.
Please abide by the social distancing guideline of 6 feet and avoid close contact with others while in the building.
Avoid large gatherings of people in and outside of the building.
A face mask/covering is required to enter and must remain on while in the building.
PAYMENT OPTIONS
- ONLINE WWW.VACOURTS.GOV
- BY MAIL - CHECK OR MONEY ORDER PAYABLE TO:
PRINCE WILLIAM GENRAL DISTRICT COURT
9311 LEE AVE., JU 140
MANASSAS, VA. 20110
IF YOU HAVE PREVIOUSLY BEEN ORDERED TO PAY A FINE AND /OR COURT COST OR YOU WOULD LIKE TO PREPAY A TICKET;
PLEASE DO NOT ATTEMPT TO PAY THIS IN PERSON.
---
The General District Court Offices are open Monday through Friday from 8 a.m. until 4 p.m. in the Judicial Center.
Rhonda A. Daley, Clerk of Court
Traffic and Criminal Archives - Suite 230
Traffic and Criminal Room - Suite 230
Civil and Small Claims - Suite 220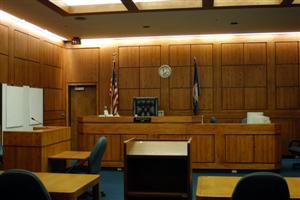 Traffic/Criminal Division:
703-792-6141
Traffic/Criminal Fax:
703-792-6121
Civil Division: 703-792-6149
Civil Fax: 703-792-6646
Archives Division:
703-792-6141
Hon. Robert P. Coleman, Presiding Judge, Chief Judge
Hon. Petula C. Metzler, Presiding Judge
Hon. Turkessa B. Rollins, Presiding Judge
Hon. William E. Jarvis, Presiding Judge
Hon. Wallace S. Covington III, Presiding Judge
To view the state Prince William General District Court website, click here.