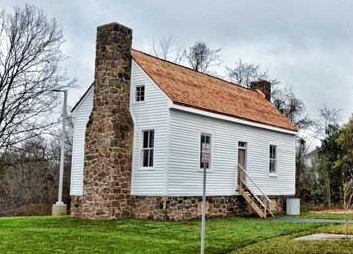 Bushy Park Historic Site reflects the history of Western Prince William County from the colonial period through to today.  Once the center of a large farm, today Bushy Park has been relocated next to the Gainesville Haymarket Community Library and is in the process of restoration.
A New House
In 1791, a small frame house was built on the edge of Matthew Whiting's property near Catharpin Creek.  Matthew Whiting soon rented the house to his sister-in-law, Francis Whiting Brown and her family. Unfortunately for the Whiting family, shortly after moving in, Francis' husband died.  Francis remained at Bushy Park raising her children a widow.
After Francis died, the home passed through the Whiting Family until sold to Susannah Graham in the 1830s.  Later the house was sold to Alexander McMullin.
The Enslaved
In 1860 Alexander McMullin owned nine people. While historians have not been able to locate the names of the enslaved, seven enslaved girls and women lived and worked at Bushy Park ranging in age from 30 years old to two years old.  Although McMullin owned eight enslaved people only the seven girls are listed at Bushy Park in 1860. A month baby boy was listed as a fugitive slave, likely taken by his parents in a search for freedom.
The Civil War
After the Second Battle of Manassas portions of Bushy Park was used as a Confederate army hospital. Two wounded South Carolina soldiers were so badly wounded that they died at Bushy Park and were buried on the property. After the Civil War Alexander McMullin's grandson, William Buckley, who was a young boy during the Civil War, wrote a poem entitled "Two Soldiers in Gray" as a tribute to the South Carolinians.  The poem was published in a local newspaper and then reprinted in a newspaper in South Carolina.  The poem helped to connect the soldier's decedents to the graves.
A Changing Landscape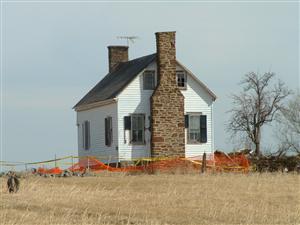 During the first quarter of the 20th century Bruce Whitmore purchased the property and farmed the land.  By the 1940s, Whitmore began leasing the land to various families to farm.  In the early 1940s, the Childress family rented the property.  Soon the oldest Childress sons joined the Navy during World War II and without the needed manpower, the Childress family struggled to operate the farm and moved away.  After the war, the Childress family returned to rent the property for a short period.
In the early 21st century Busy Park was moved from its original location to prevent its demolition. Today, the home has been moved next to the Gainesville-Haymarket Community Library and is in the process of being restored.  
Bushy Park Historic Site is located at 14870 Lightner Rd, Haymarket, VA 20169.  It is currently closed to the public.