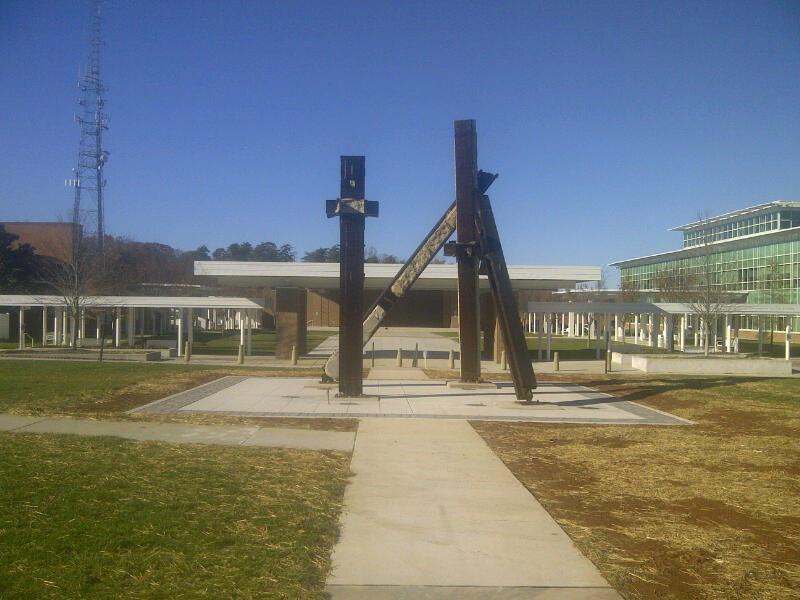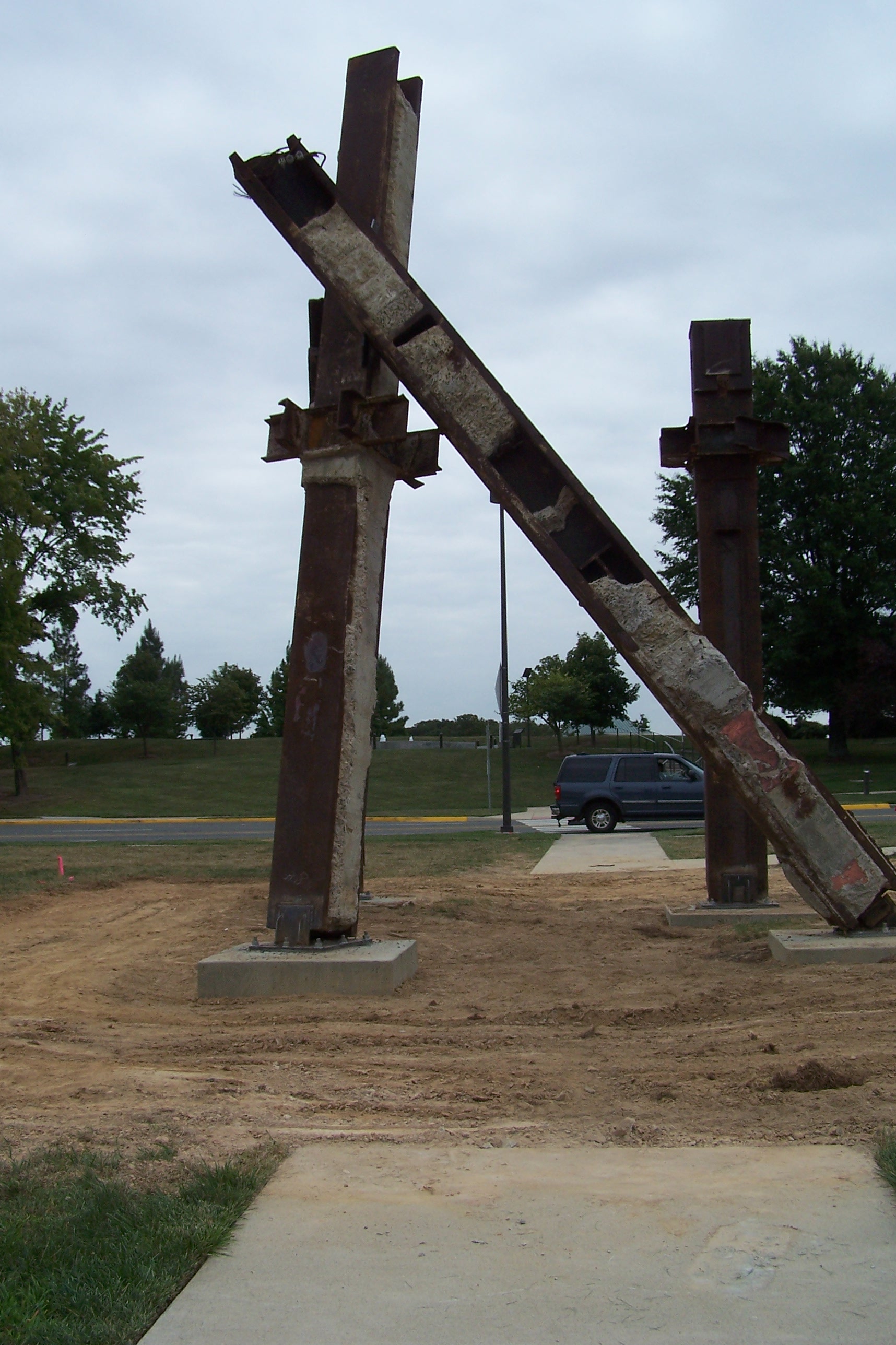 The Historic Preservation Division serves as the caretaker for this important component of the 9/11 Memorial in Prince William County.
The construction of the World Trade Center was so massive that the Port Authority of New York and New Jersey sought steel from multiple foundries. One source was the Gainesville, Virginia based Atlas Machine & Iron Works. Specializing in weldments, Atlas was responsible for construction of the box columns at the base of the Twin Towers.
In 2010, Prince William County acquired four steel beams from the New York/New Jersey Port Authority. The combined beams weigh 59,768 pounds.   After a period of painstaking restoration work and two months of planning, preparation and construction, the four steel beams from the World Trade Center were moved to the 9/11 Memorial. Three of the beams that create the monument stand clustered, leaning together at angles, to depict how the beams may have fallen. The fourth beam stands upright, apart from the others.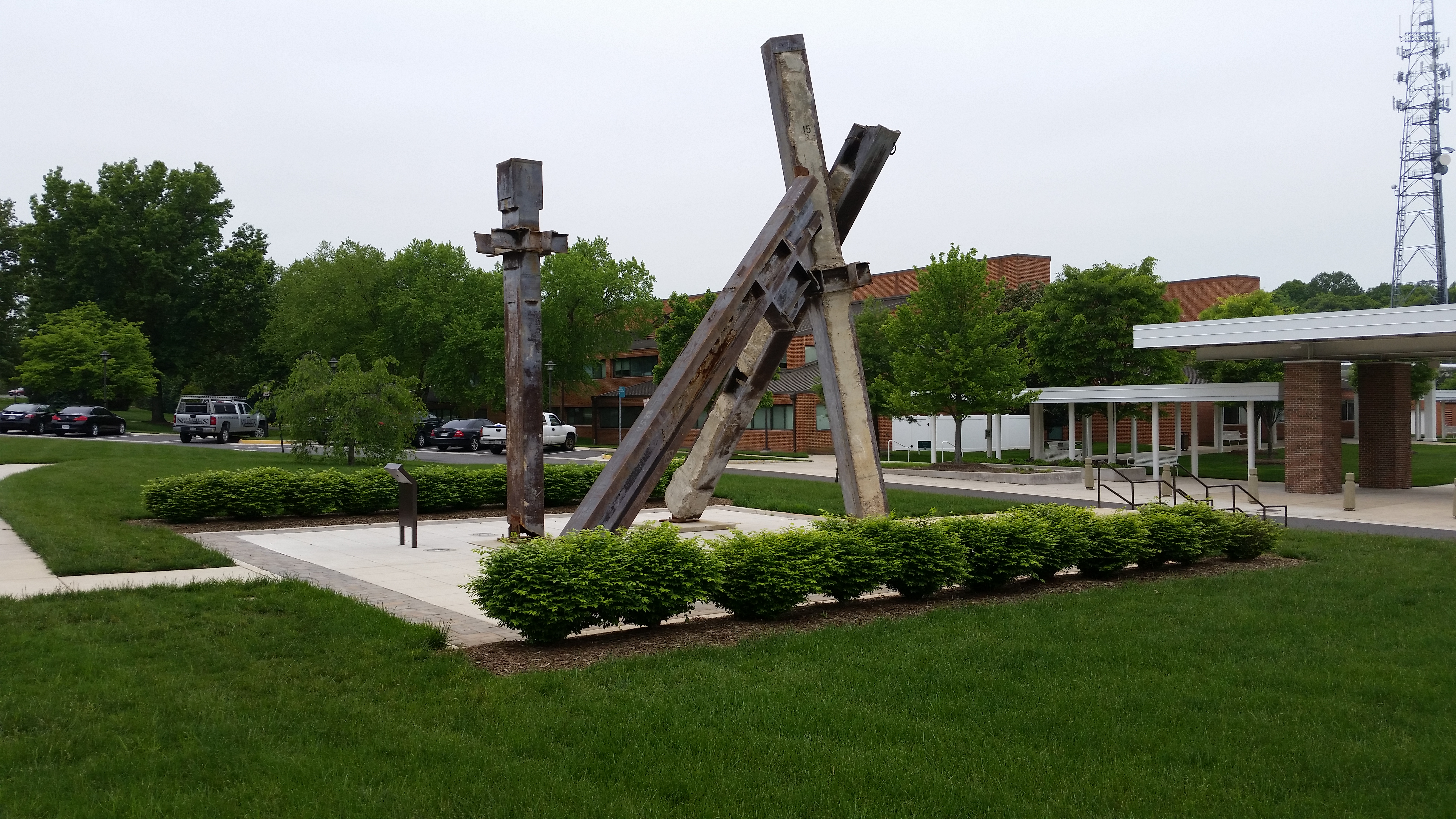 On September 11, 2001, 2,977 people died in the unprecedented attacks on the World Trade Center and  the Pentagon.  The Prince William area lost the most people of any region in the metro area, 22 in all. Their names are etched into the Liberty Memorial located near the World Trade Center Steel at the Prince William County Government Center. Their names are listed below so they will not be forgotten: 
Sergeant First Class John J. Chada, U.S. Army, Retired
Petty Officer Third Class Jamie L. Fallon, U.S. Navy
Amelia V. Fields
Lt. Col. Robert J. Hymel, U.S. Air Force, Retired
Sergeant Major Lacey B. Ivory, U.S. Army
Judith L. Jones
David W. Laychak
James T. Lynch, Jr.
Gene E. Maloy
Robert J. Maxwell
Molly L. McKenzie
Craig J. Miller
Diana B. Padro
Rhonda S. Rasmussen
Edward V. Rowenhorst
Judy Rowlett
Donald D. Simmons
Jeff L. Simpson
Cheryle D. Sincock
Chief Information Systems Technician Gregg H. Smallwood, U.S. Navy
Sergeant Major Larry L. Strickland, U.S. Army
Sandra L. White