Image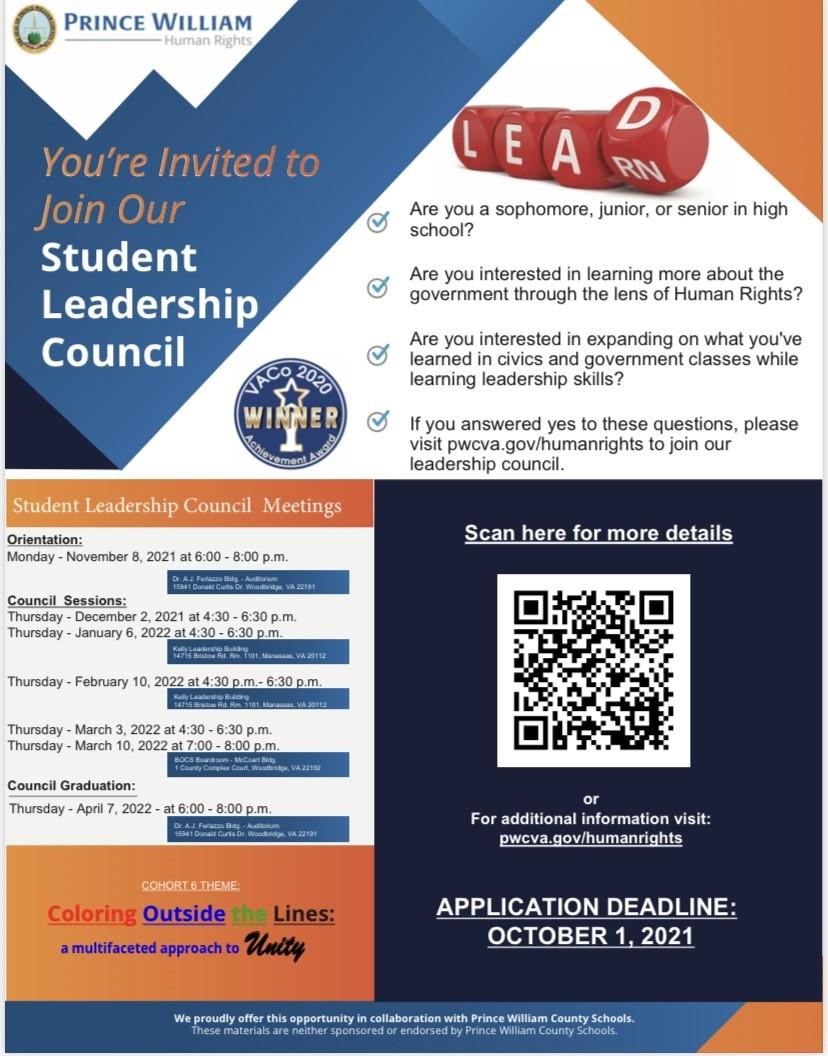 Students may apply to join the Human Rights Student Leadership Council by completing THIS APPLICATION
In 2016, The Prince William Human Rights Commission and its partners launched the Human Rights Student Leadership Council (HRSLC) to enrich high school students with knowledge about their human rights, civil rights, and anti-discrimination laws. The program is designed to prepare high school students for leadership roles, while broadening their impact as prospective employees, tenants, and consumers in the community. The Student Leadership Council provides students with an opportunity to work with local government to increase community awareness and ensure the voices of our future leaders are heard.
The HRSLC experience:
Promotes dialogues regarding diversity among youth.
Encourages a greater understanding an appreciation of community initiatives.
Creates exposure to local human and civil rights, fair housing, and employment laws.
Educates students about leadership roles and responsibilities.
Provides knowledge about the history and origin human rights agencies and their mission within the community.
FUNCTIONS AND DUTIES OF THE STUDENT COUNCIL
The Functions and duties of the student council shall include but not be limited to the following:
Commit to attend every session of the student leadership council punctually.
Actively engage and participate in its sessions and activities
Produce and present such reports as may be necessary to support its mission;
Treat every other member of the cohort with dignity and respect in every discussion, debate, or interaction.
Perform such other duties as may be assigned by the HRC.
Regularly practice and discuss leadership.
FIVE AREAS OF POTENTIAL ENGAGEMENT FOR STUDENT COUNCIL ACTIVITIES
Projects: Implementing human and civil rights projects in the community.

Partnerships: Collaborating with other organizations to raise community awareness about human and civil rights issues.

Events: Working together with the Prince William community to promote human rights awareness and diversity. Assisting the Human Rights Commission with its annual Universal Human Rights Day and yearly presentation of the EEOC Youth @ Work workshop.
Public Speaking/Outreach: Sharing unique experiences and promoting diversity through conferences, public events, small group discussions, online interactions, and a variety of other activities and media.
Publications: Spreading the message of the student council and the Human Rights Commission.
RECRUITMENT
The recruitment period for the Human Rights Student Leadership Council ends on October 1, 2021 - All applications should be submitted to [email protected] by October 1st.
Student Leadership Council Meetings:
Orientation:                       Monday - November 8, 2021 at 6:00 - 8:00 p.m.
Council Session 1:             Thursday - December 2, 2021 at 4:30 - 6:30 p.m.
Council Session 2:             Thursday - January 6, 2022 at 4:30 - 6:30 p.m.
Council Session 3:             Thursday - February 10, 2022 at 4:30 - 6:30 p.m.
Council Session 4:             Thursday - March 3, 2022 at 4:30 - 6:30 p.m.
Council Session 5:             Thursday - March 10, 2022 at 7:00 - 8:00 p.m.
Graduation:                        Thursday - April 7, 2022 - at 6:00 - 8:00 p.m.
The seven meetings include our orientation, graduation ceremony, Commission presentations, guest speakers, and outreach activity sessions.
For additional questions, please feel free to contact the Human Rights Office at 703.792.4680 or email us at [email protected].
ONE COMMUNITY UNITED VIDEO
COHORT 4 STUDENT LEADERSHIP COUNCIL PHOTO
Image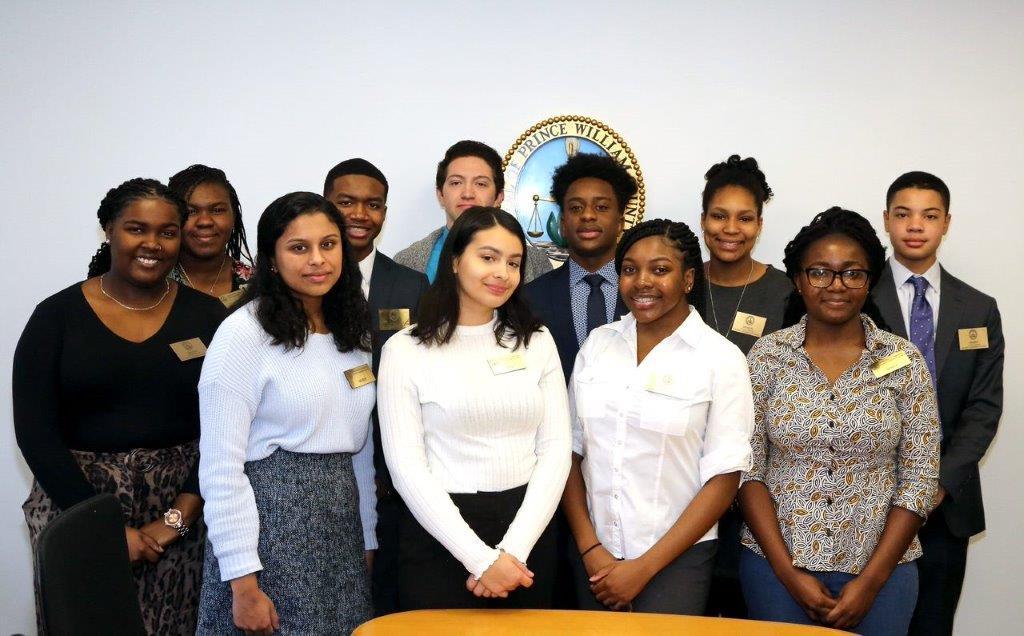 VACO BEST ACHIEVEMENT AWARD
2019-2020 Student Leadership Council
Prince William County
Human Rights
15941 Donald Curtis Drive, Suite 125
Woodbridge, VA 22191
703-792-4680
Fax: 703-792-6944
email: [email protected]