ENGLISH CONVERSATION PROGRAMS OFFERED AT THE LIBRARY
TUTORING FOR ADULTS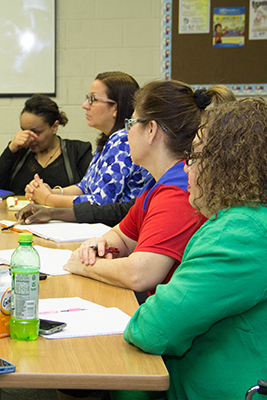 Literacy Volunteers of America—Prince William, Inc. (LVA–PW) is an award-winning nonprofit organization that offers tuition-free adult literacy classes and much more. The mission of LVA–PW is to teach adults to read, write, and communicate effectively in the English language in order to acquire the basic literacy skills to become self-sufficient, to better provide for themselves and their families, and to more actively participate in the community.
ADDITIONAL TUTORING OPPORTUNITIES
LVA–PW provides classes in basic literacy, English as a Second Language (ESOL), Pre-GED and GED tutoring, civics and citizenship, and computer and job readiness tutoring services to the community. In addition, LVA–PW offers writing improvement assistance for students wanting to pass the Northern Virginia Community College's Virginia Placement Test (VPT) writing entrance exam, ESOL classes to help adults learn English throughout the county and specialty courses like Job Readiness for Professionals and an innovative Confidence course.
FUTURE ONLINE TUTOR TRAINING WORKSHOP(S)
2021
Please contact the Literacy Volunteers of America for more information.
CONTACT INFORMATION TO FIND OUT MORE
For more information about the free classes and tutoring services offered or to learn how you can change a life by becoming an LVA–PW tutor, visit LVA–PW (www.lvapw.org​).
Call 703-670-5702 or email: [email protected]
Please note: ESL Classes at Central have been canceled for the month of October due to low enrollment. Literacy Volunteers of America will be promoting the program with Catholic Charities during October. Interested students' please give Literacy Volunteers of America a call at 703-670-5702 to register and for more information.
_________________________________________________________________________________________________
Listing of English Conversation and ESL Classes offered at select Prince William Public Libraries.