Caregiver Assistance
Please call the Information & Assistance line at 703-792-6374 or email [email protected] to find out if you are eligible for any of the services below:
You may also be interested to know:
Caregiver support groups are available across the Prince William area. Visit our Caregiver Support Groups page to learn more.
A variety of services and resources are available for those persons who would like to remain in their homes for as long as possible. Learn more on our In-Home Assistance page.
EQUIPMENT
The Prince William Area Agency on Aging wants to ensure that Caregivers are provided with the durable medical equipment (DME) that enhances their ability to provide the best level of care to their care recipients. Equipment that is not covered by any other insurance source that the caregiver believes will benefit the level of care they can provide to the care recipient can be ordered and shipped directly to the caregiver. Examples of equipment that are provided include shower chairs, lifts, walkers, or wheelchairs.
Project Mend-A-House is a non-profit foundation which also provides adaptive daily living aids such as motorized chairlifts (stair climbers), hospital beds, portable ramps, raised toilet seats, walkers, and scooters. For more information visit pmahweb.org.
PUBLIC INFORMATION
Would your support group like a speaker to discuss caregiving issues? The Prince William Area Agency on Aging has a Public Information Specialist who can come speak to your group. The Specialist will present information and answer questions regarding resources available to caregivers.
RESPITE VOUCHERS
Image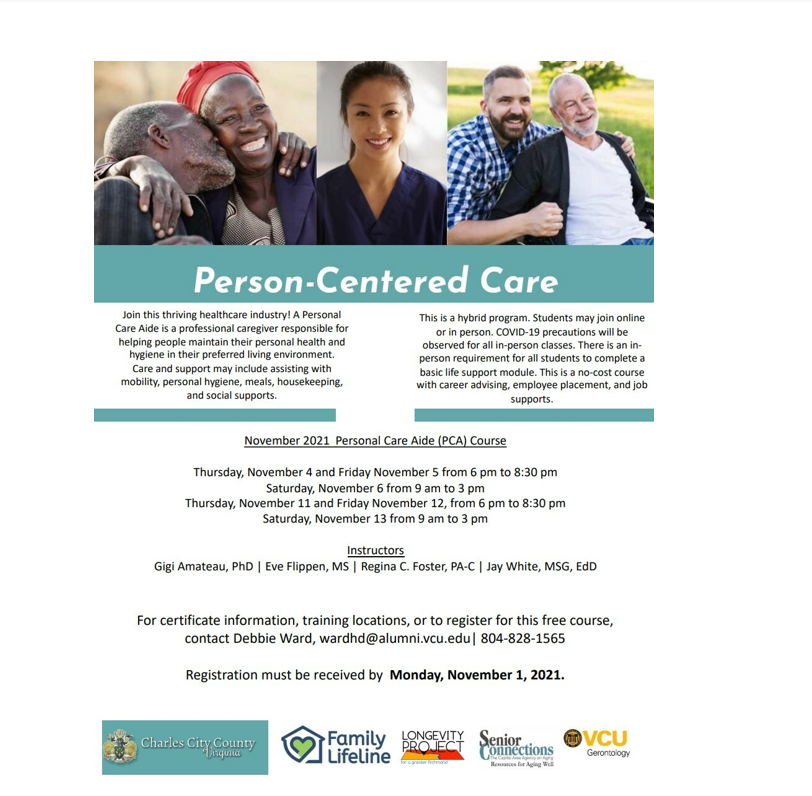 The Virginia Lifespan Respite Voucher Program is funded through a federal grant awarded to the Virginia Department for Aging and Rehabilitative Services (DARS) from the federal Department of Health and Human Services, Administration on Aging-Office of Home and Community Based Services. The Virginia Lifespan Respite Voucher Program provides reimbursement vouchers to home-based caregivers for the cost of temporary, short-term respite care provided to people with disabilities (children and adults, including elderly persons). Individuals eligible to apply for voucher funding through the Virginia Lifespan Respite Voucher Program include Virginia caregivers of children or adults who reside in the same household as the person receiving care. For more information, eligibility criteria, and instructions on how to apply visit vadars.org