Image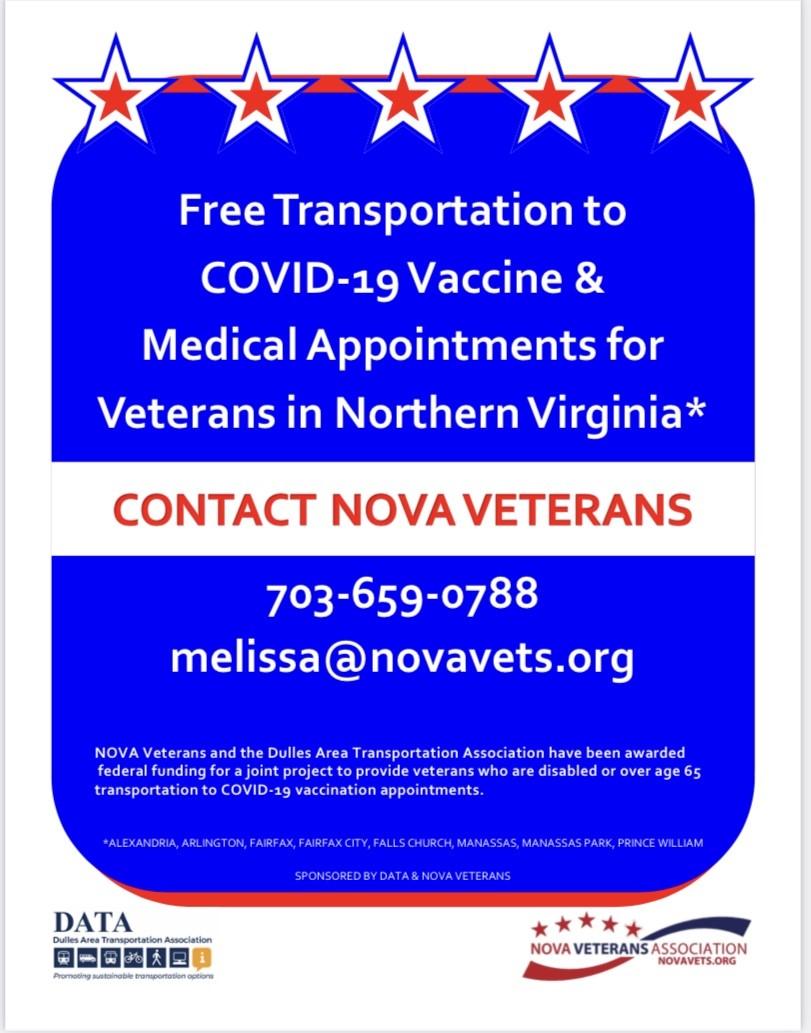 The following transportation services are available in our area:
Senior Discount Information
Information about senior discounts is likely to change over time. If you find that any of our information is outdated, or you would like to share knowledge of other transportation-related discounts please let us know! Email [email protected] or call 703-792-6374.
PUBLIC TRANSIT
Potomac and Rappahannock Transportation Commission (PRTC)
General information: www.prtctransit.org
Schedules: prtctransit.org/local-bus/schedules
Off-Route trips: If you cannot get to an OmniLink stop, or if your destination is not close to a stop, you may still be able to use OmniLink by reserving an off-route trip. To determine if an off-route trip is possible, call Customer Service from 5:30 AM to 8:30 PM, Monday - Friday at (703) 730-6664 or (888) 730-6664. A Customer Service Agent will work with you and try to route the bus closer to where you live or want to go - up to 3/4 mile off the route. Passengers who schedule off-route trips are not eligible for reduced fares and will be required to pay an off-route surcharge. Visit the OmniLink website for more information.
Senior Discount: Senior SmarTrip® cards may be purchased by citizens age 65 and older to receive discounted fares on Metrobus and Metrorail. Older adults aged 65 and older may also pay the reduced bus fare of 85¢ by showing the bus operator a valid ID. Exact change is required. Visit the WMATA website for the most up to date information on these discounts.
How it works: To purchase a Senior SmarTrip® card there is an initial cost of $2. Some sales locations sell cards with pre-loaded amounts already on them; therefore, the cost would be $5 plus the pre-loaded amount. A SmarTrip® card is easy to use and faster than a fare card. Just touch it to the target on a fare gate or fare box and the reduced fare is automatically be deducted.
Frequently Asked Questions Regarding Senior SmarTrip
Senior SmarTrip® card's may be purchased at the following locations in our area: PRTC Transit Center 14700 Potomac Mills Road, Woodbridge, VA 22192 Open 6:00 a.m. - 8:00 p.m. Monday - Friday (Transactions processed 7am - 7pm, Monday – Friday) (703) 730-6664 or (888) 730-6664
MANASSAS AREA Giant Grocery Stores 8025 Sudley Road, Manassas, VA 8819 Centreville Road, Manassas, VA CVS Stores 9200 Centreville Road, Manassas, VA 8041 Sudley Road, Manassas, VA 12890 Touchstone Circle, Woodbridge, VA Todos Markets 13905 Jefferson Davis Highway, Marumsco Plaza, Woodbridge, VA 17782 Dumfries Shopping Plaza, Dumfries, VA
VRE
Senior Discount: VRE offers reduced-fare tickets to senior citizens aged 65 and older. The discount is 50% off the cost of a regular priced VRE ticket, with the exception of the VRE-TLC ticket. A list of vendors who sell reduced fare tickets is located here.
Discounts for Persons with Disabilities: A reduced face is available to those with a VRE Reduced Fare ID card. Visit https://www.vre.org/service/fares/ to fill out an application and apply.
Amtrak
Senior Discount: Amtrak travelers 62 years of age and over are eligible to receive a 15% discount on the lowest available rail fare on most Amtrak trains. Visit amtrak.com for more information and restrictions.
Discounts for Persons with Disabilities: Amtrak offers a 15% rail fare discount to passengers with a disability and one traveling companion. Some restrictions apply, and in most cases, this discount cannot be combined with other discount programs. Visit www.amtrak.com/making-reservations-for-passengers-with-a-disability for more information on how to make reservations.
Veteran Enhanced Transportation Services
The Veteran Enhanced Transportation Service (V.E.T.S.) is a volunteer transportation program for veterans and their spouses, age 55 or older, who are unable to transport themselves to doctors' offices or pharmacies. This program is administered through a community partnership between the Prince William Area Agency on Aging (Agency) and Volunteer Prince William's Retired Senior Volunteer Program (RSVP). Call 703-792-6374 for more information.
TAXI COMPANIES
Northern Virginia Checker Cab
703-257-0222
Yellow Cab
703-491-2222 or 703-369-2100
Senior Ride: Yellow Cab offers a 10% discount to passengers 65 years of age or older (proof of ID is required to purchase) purchasing a pre-paid Senior Ride card.
How it works: Reloadable Swipe and Ride cards can be purchased as Senior Rides. 10% of what you pay is added as value to your Senior Card (example pay $100.00 get $110.00 in cab fare). Purchases must be made in person. For more information about the program, including refund policies, contact their office at the numbers above.
Wheel Chair Accessible Cab Service: Yellow Cab of Prince William has handicapped accessible taxi service. Individuals can be transported in their wheelchair or, if able, the chair can be placed in the back with the individual in a standard passenger seat. Accessible vehicles are equipped with ramps and safety restraint systems. These vehicles also accommodate standard-sized scooters.