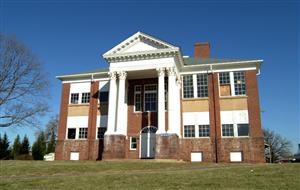 In 1908, the Virginia General Assembly granted money for an agricultural high school for each of the 10 state districts. Manassas was chosen to be home to the agricultural school for the eighth district and also was the first agricultural school to be built from this grant.
Dr. Maitland C. Bennett donated  two acres of land for the  Bennett School, located on a small hill near the existing Manassas Court House. In digging the foundations for the Bennett School, two graves were found. They were the graves of soldiers from the Civil War. It was decided to leave the graves in place and erect the Bennett School as a memorial to those who died in the Civil War. 
The Bennett School project cost $16,000. In 1909,  Bennett School opened for elementary students in Manassas who lived within a nine mile radius of the school. Due to the large elementary school student population, Bennett was never used as an agricultural high school. The then existing Ruffner School in Manassas was  expanded to accommodate the agricultural and secondary students. In 1913, Ruffner was expanded a second time. 
As the Ruffner School became overcrowded in the 1920's, the Osbourn School was built for secondary education and to house the agricultural school. Later a new Osbourn School was built and the old Osbourn School became the Bennett Annex. Both buildings served as Bennett School until 1969. A new Bennett school was built in 1969 and the Old Bennett School next to the judicial center was used by the Prince William County Police. The Old Osbourn was torn down in 1986.
Today Bennett School is managed by Department of Public Works, Buildings and Grounds Division and is not publicly accessible. Its future use is currently under review in the Judicial Center Complex Master Plan. 
For more information on historic resources in the Prince William County area click here.