Volunteers Make a Difference!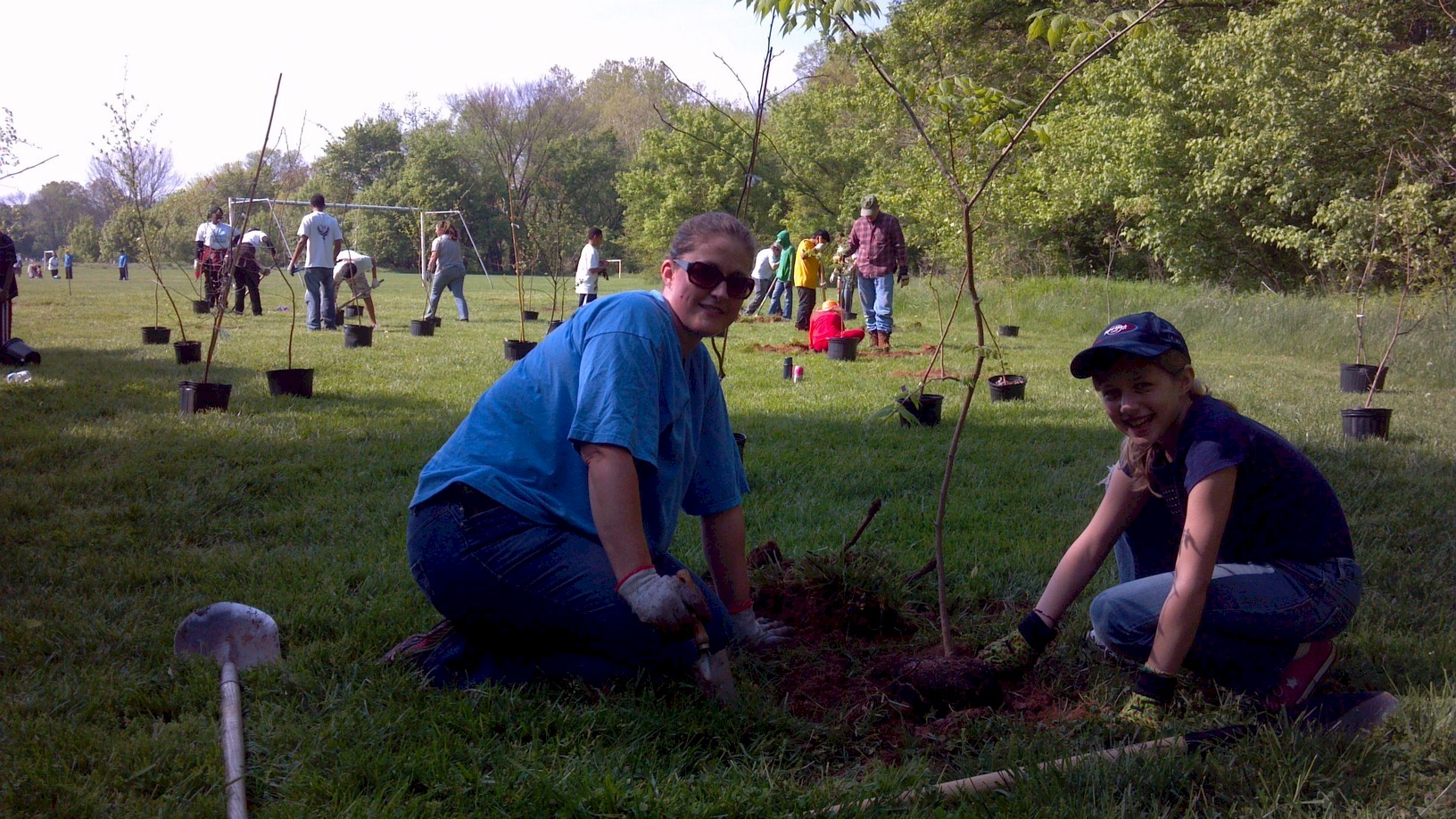 The Department of Public Works sponsors an annual conference for local youth about the environment at Stonewall Jackson High School in cooperation with the school's ecology club. As part of the conference, the youth and their families volunteer to help with local conservation projects. We completed the projects in a six week period from mid March to the end of April. This effort, known as Six Weeks to Make A Difference, brings families, students, local conservation agencies and civic organizations together to undertake critical work to protect, preserve and enhance our natural areas.
2017
Volunteers made a significant difference in the health and preservation of our local environment.
Picked up litter, cleared trees, started trails, remulched trails improved fencing, repaired structures and removed brush at Cockpit Point Historic Site and Bristoe Station Battlefield

Planted 525 trees at the soon to be opened police and fire stations located on Davis Ford Road

Planted 165 trees at Bristoe Station as part of a larger reforestation project to protect a nearby stream, create habitat and recreate the appearance of the site as it looked during the Civil War -- added benefit is the savings to the County by eliminating the need to mow

Picked up 1,680 pounds of litter along nine miles of Route 1 in Woodbridge

Created seed pots from paper rolls and planted seeds to give to guests at the County's Compost Awareness Day

Improved trails at Prince William Forest Park by creating water breaks to reduce erosion and improving safety along the trails by filling in ruts
2016
Volunteers hit the trails, planted trees, and planted wildflowers this year!
Helped with some early trail and clean up work at the newly acquired Cockpit Point Civil War Site

Created a new trail to replace an eroding trail at Prince William Forest Park

Cleaned trails around the pond area and along the loop walk at Locust Shade Park

Helped establish a wildflower field by stomping native seeds into the ground at Rippon Lodge Historic Site

Started a greenhouse at Leesylvania State park -- made of recycled bottles

Secured a historic structure along the new Outdoor Discovery Trail in the buffer of the landfill by wrapping the structure with protective fabric, adding sand to protect it from exposure (and prevent people from falling into it) and covering it with soil and native plants

Planted trees along a local stream just off Spriggs Road
2015
Volunteers worked tirelessly to help restore, repair and create needed space for wildlife and learning opportunities for the community:
Installed a water diversion system along Turkey Run Trail to prevent erosion and created space for youth groups to learn and camp at the Turkey Run Education Center

Planted seedlings and ground cover to help stabilize a seriously eroded slope at the K-9 Gunner Dog Park and weeded other sections of the slope to help plants flourish (despite bitter temperatures and a strong breeze)

Prepped, weeded and expanded a wildlife garden at Merrimack Wildlife Preserve to created needed habitat for pollinators and a sanctuary for human and wildlife visitors

Planted 85 trees along Broad Run to help protect and preserve this fragile stream, as well as planted live stakes along the stream bank to prevent erosion

Stomped wildflower seeds at Rippon Lodge Historic Site to help establish a meadow and create needed habitat for wildlife, plus weeded and spruced up the grounds to help life flourish this spring
2014
Volunteers undertook a wide range of projects to help protect, preserve and restore our natural spaces in Prince William County and create critical habitat for wildlife that call this community their home:
Planted seedlings, bushes and flowers to help stabilize a seriously eroded slope at the K-9 Gunner Park as part of an ongoing effort to repair this area

Repaired and added water diversion systems along the Laurel Loop Trail at Prince William Forest Park, plus prepare the playground area for the upcoming season

Hosted an earth day festival at Tackett's Mill Shopping Center featuring games, information, crafts and guided hikes

Built bluebird boxes for Leesylvania State Park and installed an upcycle project using soda bottles to create a curtain of planters outside the visitor center, which will provide needed shade and beauty to the site

Removed thick covers of wisteria that were choking the trees at Rippon Lodge Historic Site and helped to bring this invasive and unwanted vine under control

Worked on trails and removed litter at Bristoe Station Battlefield to help maintain and improve the trails found at these hallowed grounds
2013
Volunteers completed six critical projects and provided over 1000 hours of service to our community! We completed the following projects:
Improved several trails and campgrounds at Prince William Forest Park
Refurbished and installed blue bird boxes and enhanced natural habitat at Vulcan Quarry
Cleaned up trails and roadways during the Civil War Battlefield Park Clean Up Day and Keep America Beautiful Clean Up Campaigns
Cleaned up litter and refurbished trails at the Julie J. Metz Wetlands
Planted flowers and shrubs, mulched open space and created a recycling collection bin for newspapers at the local Animal Shelter
Planted over 100 trees and tended to planted areas along the riparian buffer of Bull Run in the Ben Lomond Community Park
2012
The community greatly benefited from the projects with over 1000 hours in volunteer time! Just look at what we accomplished!
We pulled two large roll off trailers of debris, hazardous waste items and 38 tires from Marumsco Creek at Veteran's Park in Woodbridge.
We planted 900 native shrubs at Ben Lomond Park in Manassas to protect a small waterway leading to Bull Run.
We placed wood chips along the nature trail, improved bridges and installed a basking log for turtles at the pond at Stonewall Jackson High School in Manassas.
We worked on trails, tackled erosion issues and established additional campsites at Prince William Forest Park in Triangle.
We pulled several dump truck loads of wisteria from the wooded area near the outdoor classroom at Rippon Lodge Historic Site in Woodbridge. Wisteria is a veracious invasive that was choking out the trees.
We returned to Ben Lomond Park and planted 83 native trees to help create a forested buffer to protect Bull Run.
We pulled 17 large bags of trash, plywood and a metal sign totally 360 pounds from Neabsco Creek running through Andrew Leitch Park in Woodbridge.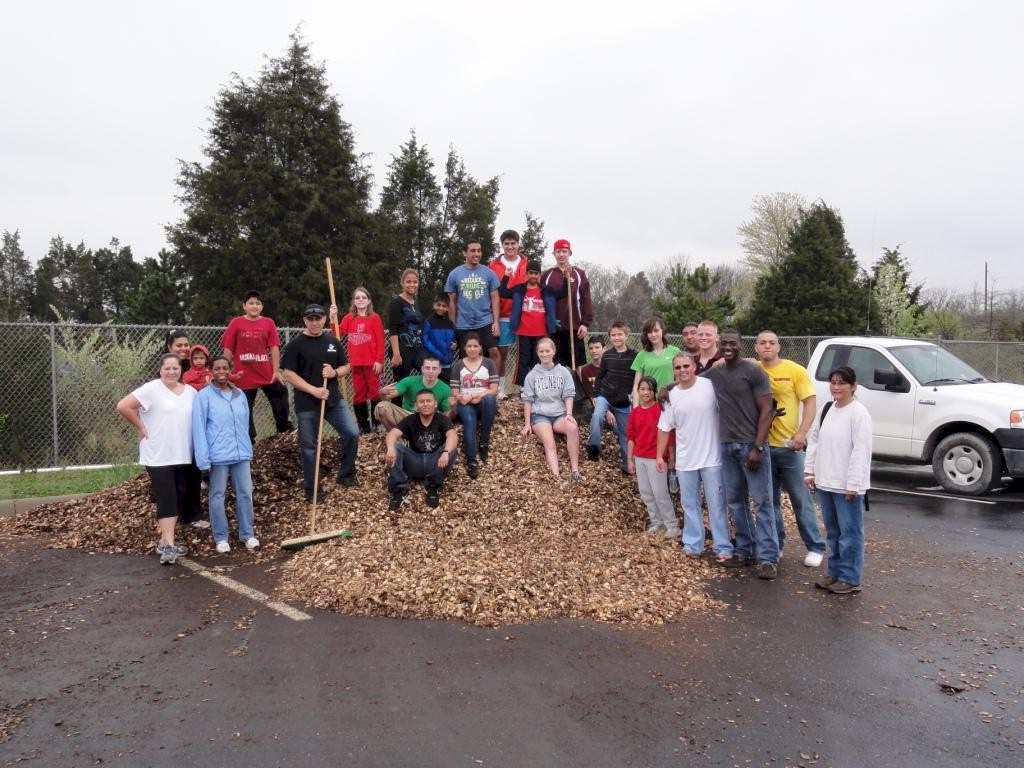 Our community is very grateful for the dedicated efforts, hard work and tremendous service provided by these families! They truly have made a significant difference in the health and future of our natural areas!