What is the Commercial Project Management Program?
The Commercial Project Management Program is the keystone of the Project Oriented Culture. The Project Oriented Culture promotes an environment of efficient processing and decision making by mitigating regulatory silos.
Project-Oriented Culture
Our development processing system centers on an innovative Project–Oriented Culture with three key elements:
Project Approach
Partnership Approach to Customer Service
Project Management
Project Approach
The customer defines their "immediate project objective" by defining the project's Scope of Work and the desired outcome (e.g., Site Development Plan Approval; Site Development Completion; Shell Building; Owner's Improvements; Certificate of Occupancy) as shown in Figure 1. The County coordinates and facilitates the regulatory review and inspection processes to achieve the customer's "immediate project objective" as shown in Figure 2.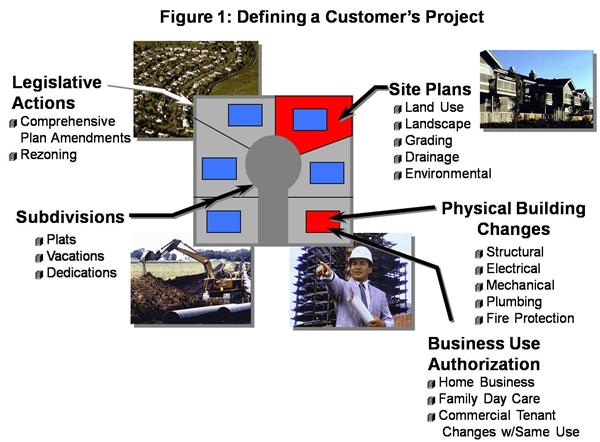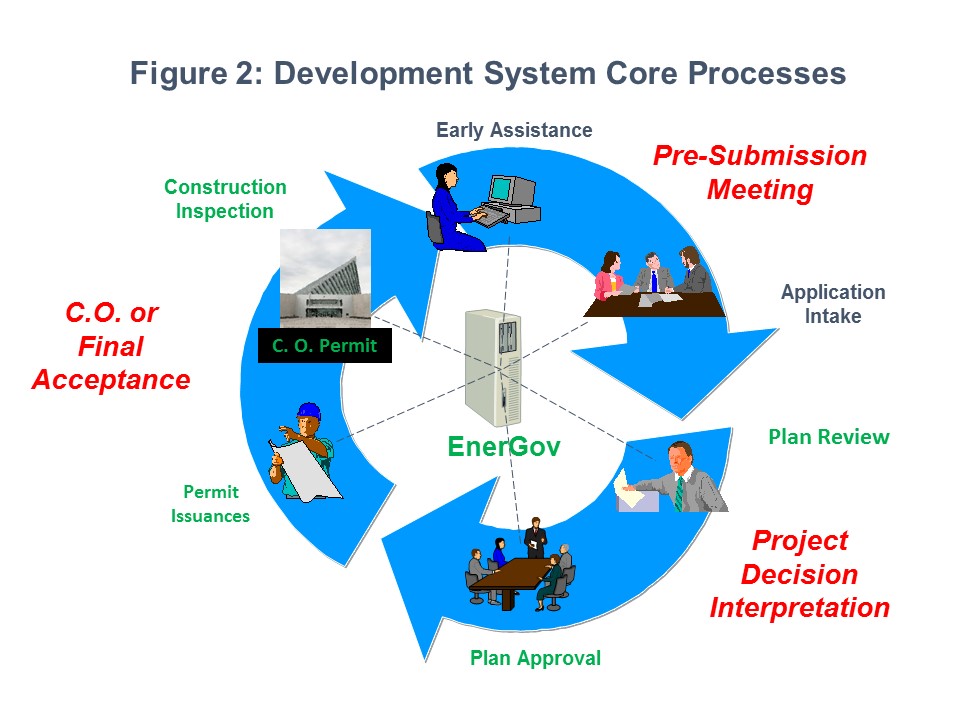 Partnership Approach to Customer Service
A partnership between the County staff and the customer, built on mutual trust and respect, provides superior project results. The partnership approach encourages open and positive communication that improves understanding, prevents errors, encourages options thinking and expedites issue resolution. This partnership results in a process which has greater predictability resulting in a more timely and efficient process. Three ideas and practices support this partnership:
Staff uses supportive communications.
Structured and adequate time is allotted to discuss and resolve issues.
Staff and customer are tasked to be creative in finding ways to resolve issues within the
regulatory framework.
Project Management
The County has created the Development Project Manager (DPM) position to support the Commercial Project Management Program. The DPM is responsible for ensuring the County staff is "speaking with one voice" to provide consistent and timely feedback and direction to customers. The DPM's key responsibilities are: facilitating Project Early Assistance; monitoring and tracking project progress to identify potential obstacles; and to ensure the Issue Resolution Process operates in an efficient and timely manner.
Customers are encouraged to appoint a project representative (i.e., Project Manager; Owner's Representative) to promote the customer's team "speaking with one voice" and to foster the partnership approach.
The Project Team includes the customer's team members (i.e., owner; tenant; designer; builders; contractors) and the County's team members (i.e., Plan Reviewers; Development Technicians; Inspectors). The Project Team is expected to communicate and resolve issues in a timely manner to support the completion of the project. If an issue cannot be resolved in a timely manner, the County DPM and customer's project representative should be notified.
The County DPM and the customer's project representative are responsible for jointly overseeing the Project Team and the project and coordinating the resolution of issues that have been elevated by the Project Team.
For additional information, please refer to Building Development Policy 2.05. Commercial Project Management Program or please Contact Us.