NEWS | KIDS | YOUNG ADULT | PARENTS | 1,000 BOOKS BEFORE KINDERGARTEN | 100 BOOKS BEFORE COLLEGE | FIND A BOOK | VIRTUAL PROGRAM DISCLAIMER
HIGHLIGHTS
---

Create an account or log in to get started.
HIGH SCHOOL EQUIVALENCY CENTER
SCHOOL CENTER
For more Digital Library resources.
RESEARCH AND HOMEWORK HELP

ACCESS VIDEO ON DEMAND
Tens of thousands of educational videos, including content from PBS, the BBC, National Geographic, and many other content providers.

BOOKS AND AUTHORS
Gale Books & Authors offers new ways to explore books, authors, genres and topics.

EBSCO EBOOK HIGH SCHOOL COLLECTION
This collection contains more than 10,000 e-books that support a quality learning experience across all academic subject areas, including history, language, literature, science and technology.

EXPLORA HIGH SCHOOL (GRADES 9-12)
A database of basic research and current events articles for Secondary school-age patrons.

EXPLORA PUBLIC LIBRARIES
A database of basic research and current events articles for general readers and students.


FREADING
Access to thousands of e-books with no waiting or holds. Fiction and non-fiction, current best-sellers and niche authors you might never have discovered.
GALE POWERSEARCH
Gale PowerSearch provides a sophisticated, yet simple, way to search many databases simultaneously.

GALE PRESENTS: PETERSON'S TEST PREP
Online practice exams and information for high school, college, grad school, career, and International prep.

HOOPLA DIGITAL
 

 

 

E-books, movies, TV episodes, music albums and audiobooks. Internet Explorer is not supported.
Get digital library card | HELP

ISSUES & CONTROVERSIES
This database explores hundreds of hot topics in politics, government, business, society, education, and popular culture.

LEARNINGEXPRESS LIBRARY
Provides free access to online practice exams. Includes everything from the SAT/ACT exams for high school students to ASVAB tests for those pursuing a career in the military.

NOVELIST PLUS
A reader's advisory resource for fiction, non-fiction, and audiobooks.

OVERDRIVE

 

OverDrive offers thousands of popular e-books, audiobooks, and magazines to read on any type of device.
Get digital library card | HELP
SCHOLASTIC GO!
Several different Scholastic online resource into one cross-referenced site. Encyclopedia articles, educational videos, science fair projects, and more.
Freading – Downloadable eBooks
GAMES
FIND A BOOK






Harry Potter and the Chamber of Secrets
by J.K. Rowling
In Harry Potter and the Chamber of Secrets, Harry Potter is preparing to go into his second year at Hogwarts, a school for witchcraft and wizardry. But before he can escape his aunt and uncle's house, a house elf named Dobby visits him d...
tagged: childrens, young-adult, adventure, juvenile-fiction, middle-grade, ...






by Adam Silvera
They Both Die at the End is set in an alternate universe in which a company known as Death-Cast sends you an alert letting you know that it is your end day. This story follows two boys, Rufus and Mateo. Mateo is afraid of the world and d...
tagged: young-adult, fiction, audiobook, and ebooks





Simon vs. the Homo Sapiens Agenda
This book follows Simon and he's being blackmailed. He's in the closet and having secret email conversations with the mysterious Blue. Unfortunately he leaves his email up at school one day so Martin decides to take this opportunity to u...
tagged: young-adult, audiobook, fiction, film, romance, and realistic






by S.E. Hinton
This is one of my favorite books I have ever read because of the way it can hit you. The first 2 chapters of the book weren't as good as the rest, once you finish the first 2 chapters things start getting more intense and more interestin...
tagged: young-adult, award-winners, classics, fiction, film, juvenile-ficti...





by Marie Lu
Every music lover knows of Wolfgang Amadeus Mozart, but fewer are aware of his sister Maria Anna Walburga Ignatia Mozart, affectionately called Nannerl in the Mozart household. This historical novel with elements of magical realism is ab...
tagged: young-adult and historical-fiction

CHECK OUT THE FOLLOWING READING LISTS
Graphic Novels for Young Adults
Star Wars and Space-Themed Media List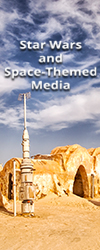 Search 4000+ books, audiobooks, and films from the Young Adult Library Services Association's award winners.