Courtroom Security Responsibilities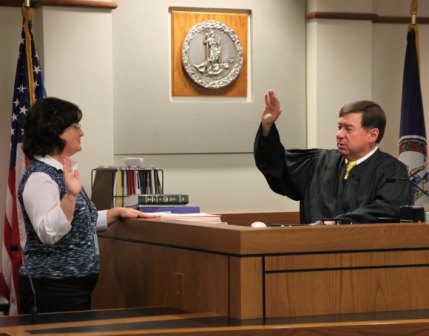 The Court Security staff is responsible for maintaining order and proper decorum in all courts. The Prince William County Deputies assigned to Court Services are responsible for inmate transportation and courtroom security. Our Court Security Staff are also responsible for assisting the public.
In order to maintain a safe and secure environment, all persons and parcels entering the courts are subject to search. No camera phones by order of the Circuit Court.
Metal detectors and X-ray scanning machines are in use at the Judicial Center entrance. All persons entering the Judicial Center are subject to search.
No guns, knives, pepper gas, mace, tools, sharp objects including scissors or other weapons of any kind are allowed in the Judicial Center per 18.2 - 283.1 Code of Virginia.
To avoid delay (and possibly miss your scheduled hearing), it is highly recommended that you check your pockets, brief cases, backpacks, key rings, etc. to ensure that you have no objects with you that could conceivably be used as a weapon. Do not overlook items such as penknives or fingernail clippers. You will not be allowed into the building with them. Plan ahead - leave questionable objects at home or in your car.
Other Unauthorized Items Include:
Cameras of any kind
Video Cameras of any kind
Recording Devices of any kind
Food and Beverages are not allowed in the Judicial Center