Brentsville Courthouse Historic Centre is open for tours Friday-Monday at 11am, 1pm and 3pm. Grounds are open from dawn to dusk.
We continue to evaluate operating schedules in light of the impacts of COVID-19. As such, patrons who are unvaccinated or not fully-vaccinated are strongly encouraged to wear masks. If you have or recently had fever, cough, or shortness of breath please make the decision to stay home. Prince William County Parks, Recreation & Tourism along with the Office of Historic Preservation's COVID-19 Operating Information.
---
Tours: $5 for adults, free for children under six, $3 per person for groups of 10 or more and $6 per student for student programs and accompanying adults are free (call for reservations). Please visit our page on Education Field Trips: https://www.pwcgov.org/government/dept/park/hp/Pages/Education-and-Programs.aspx
Pricing varies for special programs, please view our calendar for a complete list of our special events. Donations to support historic preservation efforts in the County are gratefully accepted.
Brentsville Courthouse Historic Centre
12229 Bristow Road in Bristow, Virginia 20136
(703) 365-7895

What Happened Here?
Established on 50 acres in 1820, the Town of Brentsville became the fourth county seat of Prince William County. By 1820, many residents had moved farther west for better farm land and the old county seat (Dumfries) was too far east for the western residents to conveniently travel. The new town of Brentsville was centrally located in Prince William County, along the major east/west road, which led from the port of Dumfries to the Shenandoah Valley. Every type of county business occurred in this courthouse, civil and criminal cases alike, for the next 70 years. Finally, in 1893, the county seat moved to Manassas, which allowed Brentsville to retain much of its 19th century character.
The 28-acre Brentsville Courthouse Historic Centre includes five historic buildings: 1822 courthouse, 1822 jail, 1880 church, 1850 farmhouse, and a one-room schoolhouse that served the young children of Brentsville from 1929 to 1944.
Brentsville Courthouse
THEN & NOW
Prince William County used the Courthouse from 1822-1893. All manner of important business occurred here, from voting for presidents, muserting up for the Army, legal battles over lost payments or property, to capital crime case deliberations. After the county seat moved to Manassas, the building was repurposed as a college for teachers, then an elementary school, a community center, and office space for the Park Authority, before being acquired and preserved by the county Historic Preservation Division.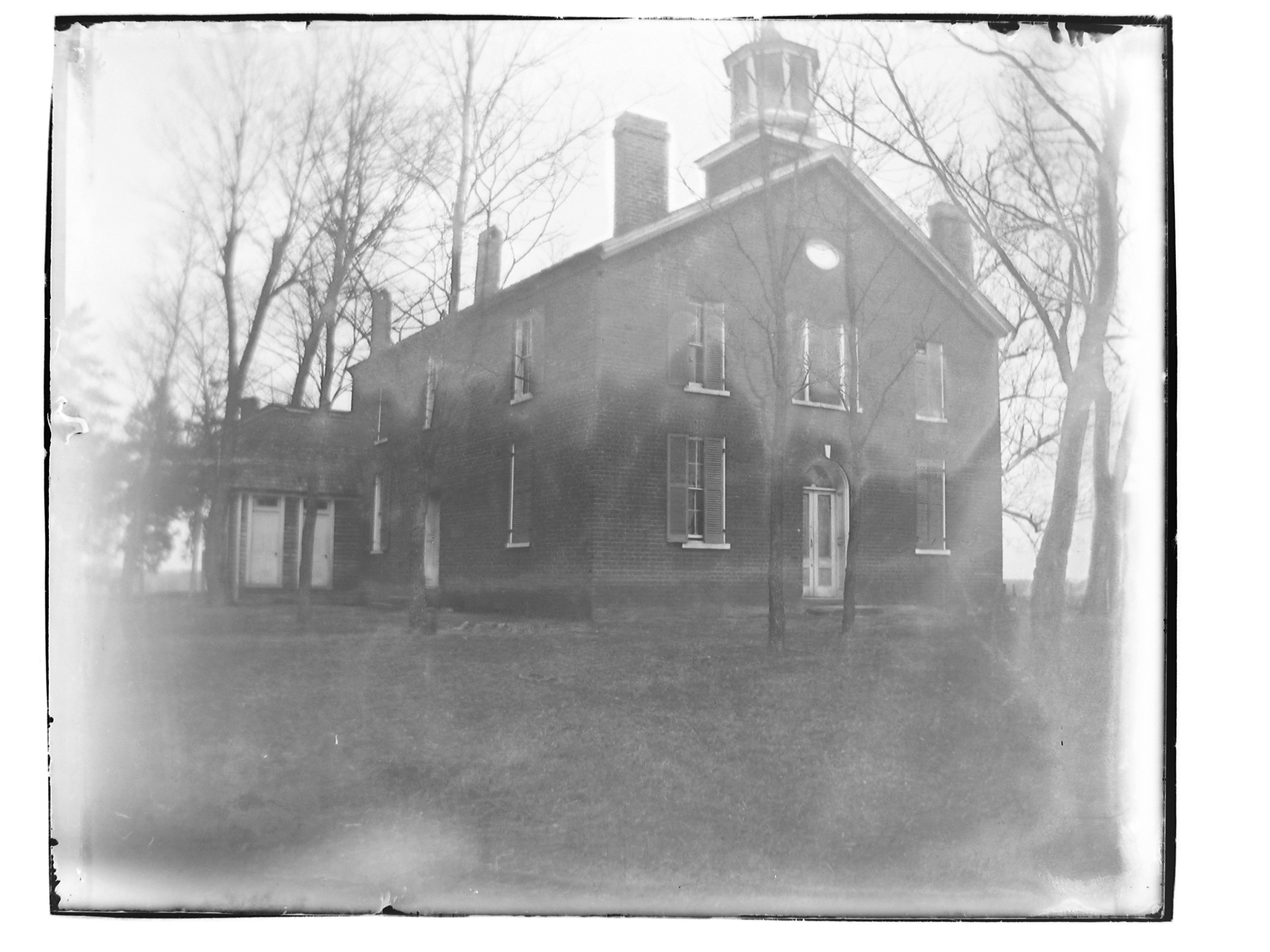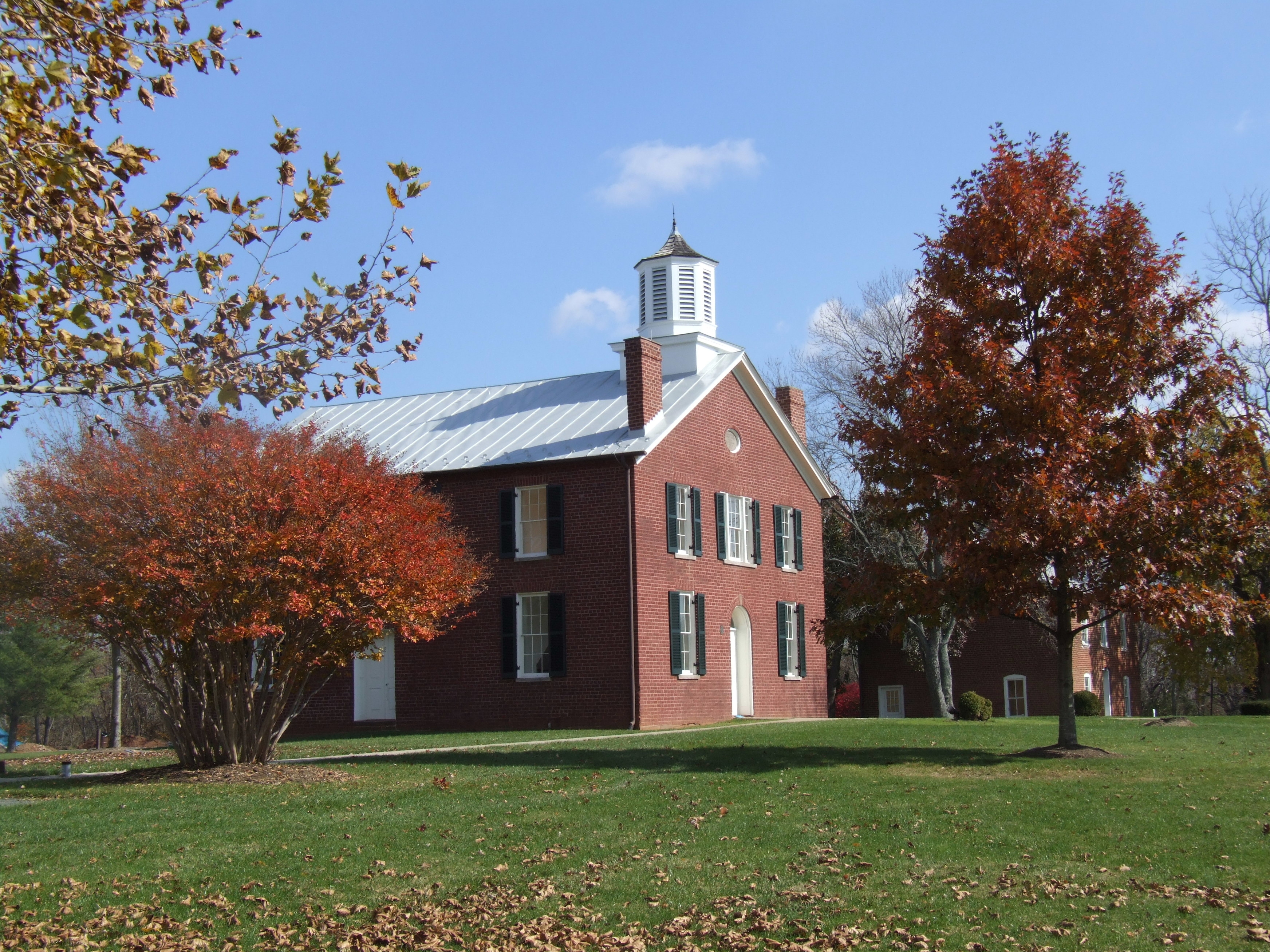 Brentsville Jail

Brentsville Jail Museum is NOW OPEN!
Image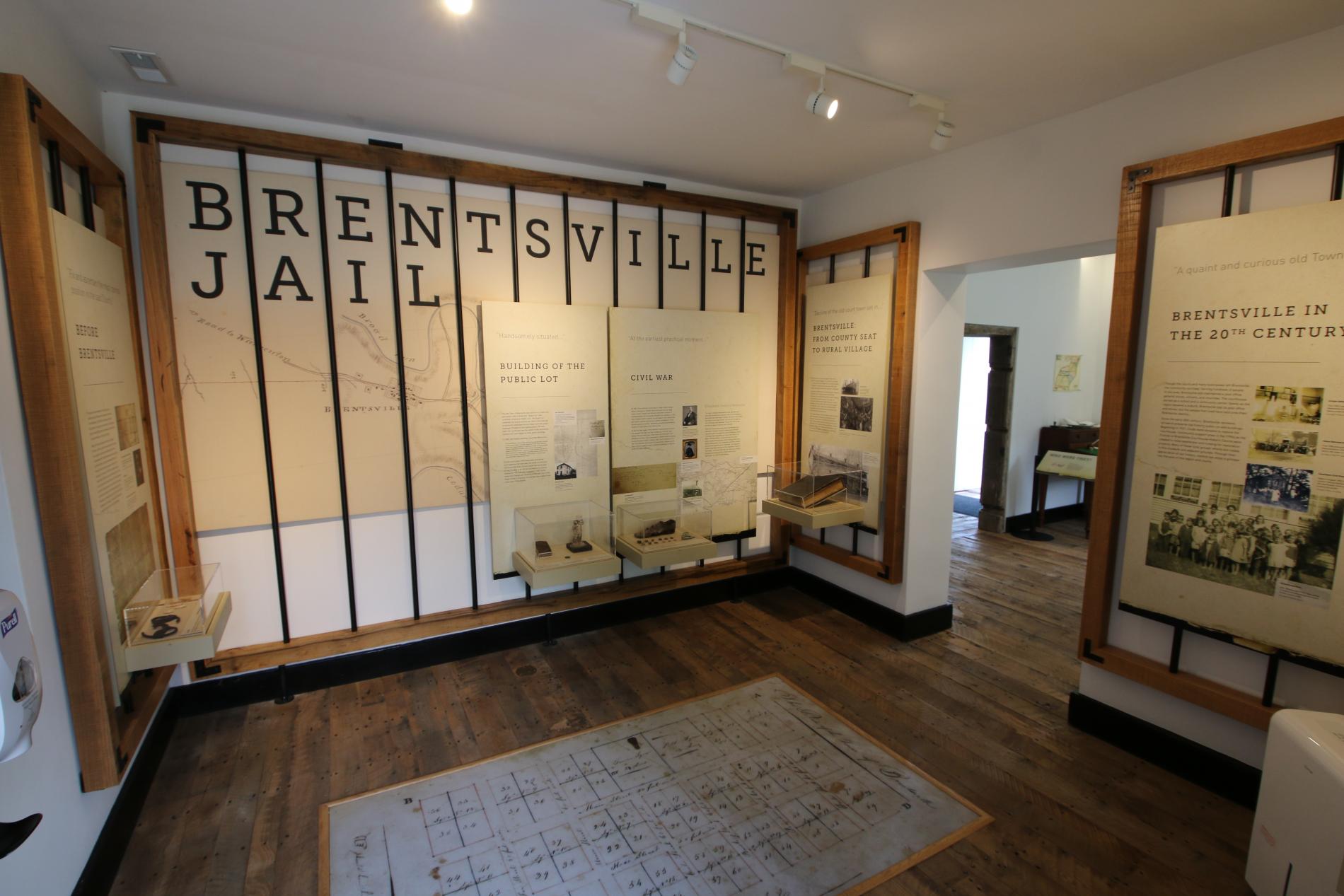 In its nearly 200-year existence, the Brentsville Jail has seen a lot of different uses. From a jail in the 19th century, to a dormitory, private house, and office space in the 20th century, the building has changed a lot over the years. After years of restoration and research, the Brentsville Jail Museum is NOW OPEN! Visit Brentsville Courthouse Historic Centre to visit the museum which tells the story of the town of Brentsville and its inhabitants, and highlights the building's various uses.
 
THEN & NOW
The Jail was built at the same time as the Courthouse and is just a 30-yard walk from one building to the other. The jail has six cells and two rooms used as the jailor's office and likely living space. After the county seat moved to Manassas, this building served as a women's dorm for the teacher's college held in the Courthouse. After the college moved, the structure was renovated inside and became a private residence for many years until the County Park Authority used the Jail as office space. The Historic Preservation Division restored the jail back to its original appearance in order to better tell the story of Brentsville and Prince William County as a part of a new exhibition inside the building.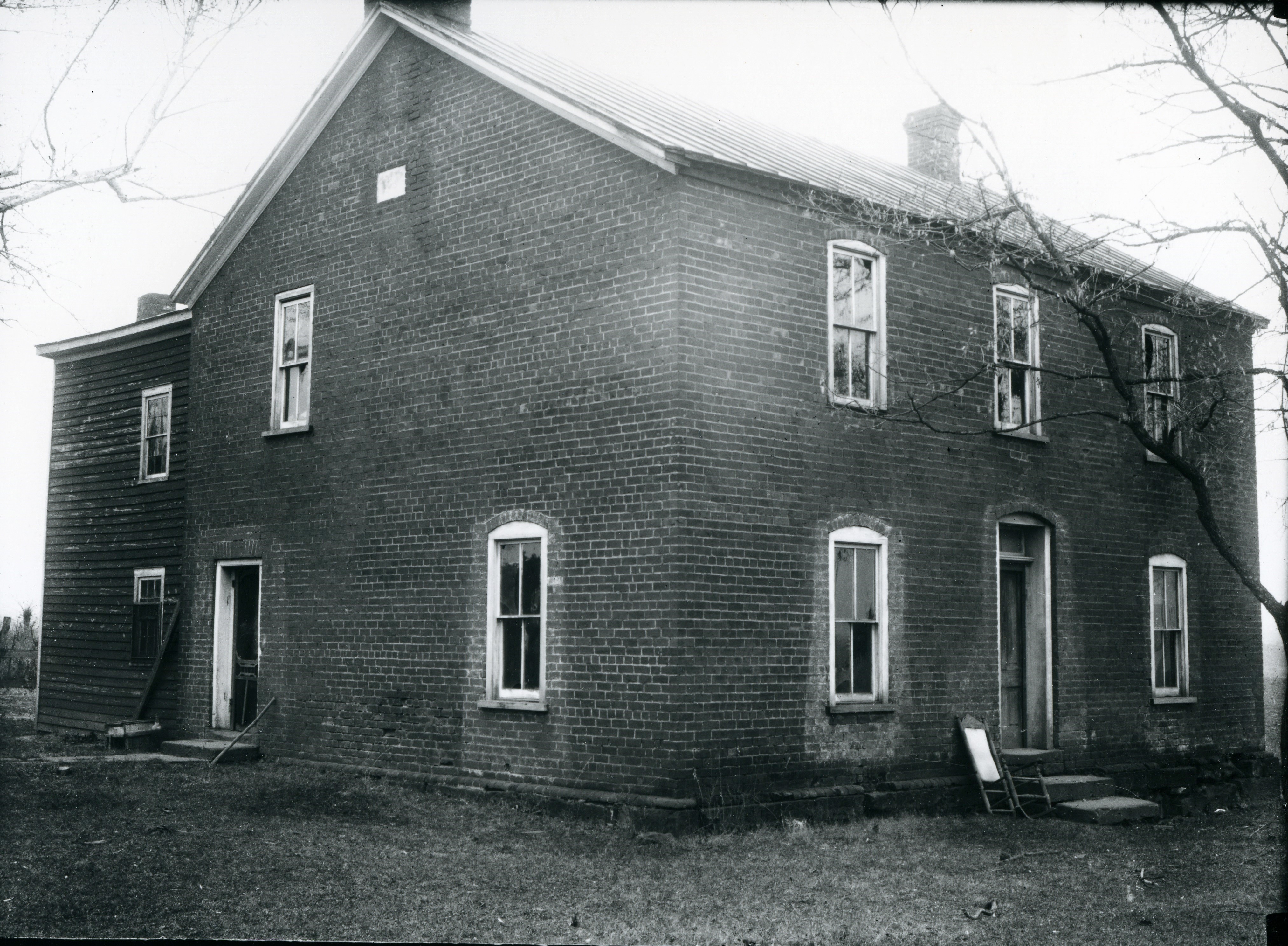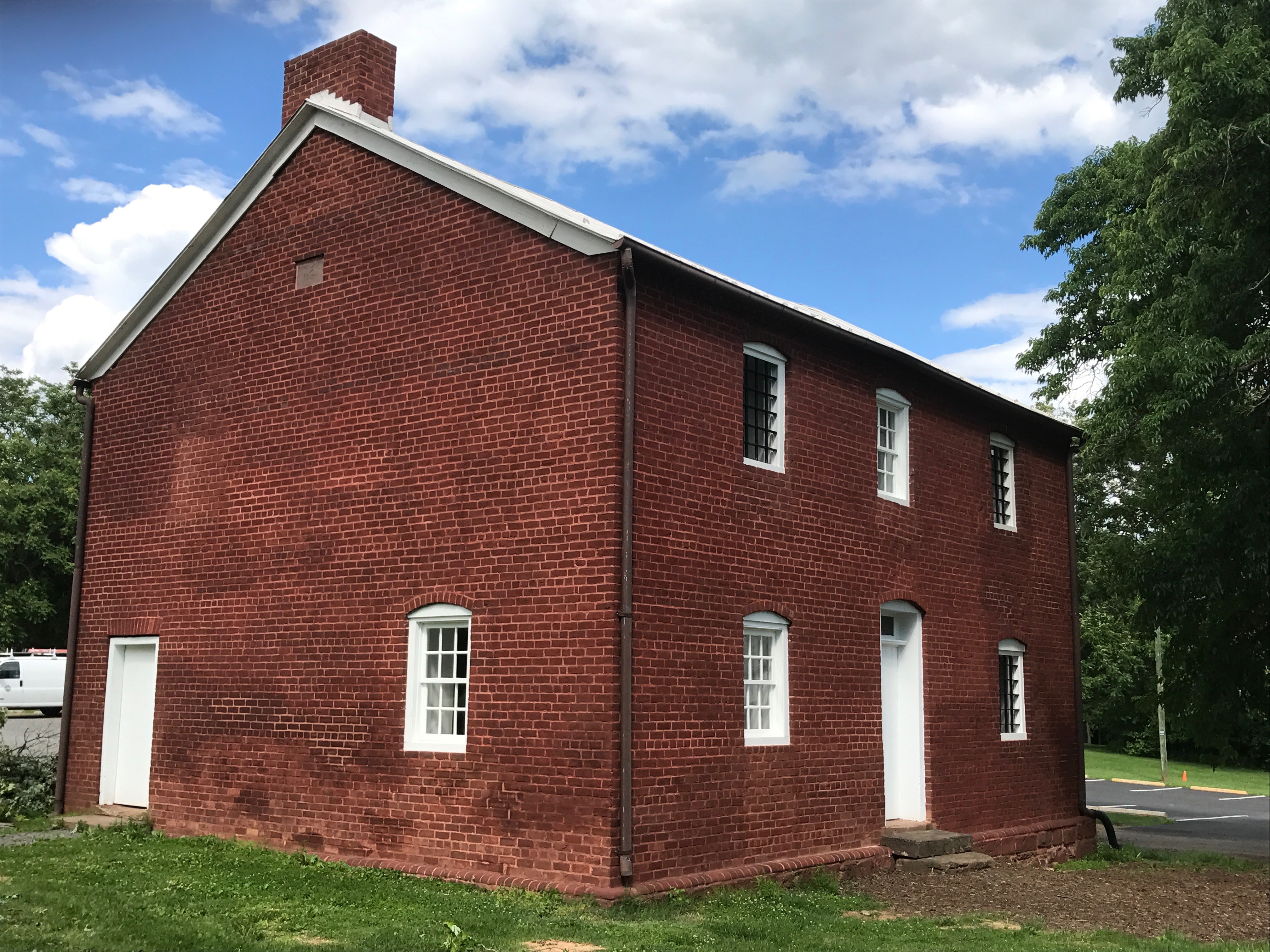 Brentsville One-Room Schoolhouse
THEN & NOW
The children of Brentsville who lived within three miles attended school in this building from 1929-1944. During this time period, Virginia schools were segregated, therefore only white children attended this school. 1st through 5th grade were all taught together by one teacher.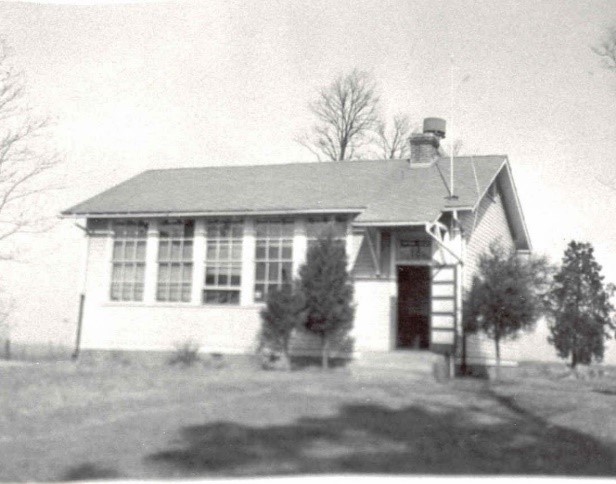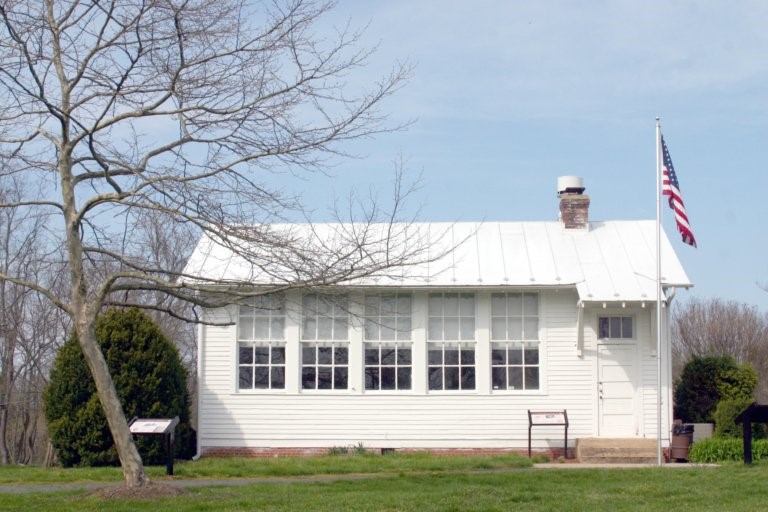 Haislip-Hall Farm House
The 1850s farmhouse was built and lived-in on 300 acres near Vint Hill Road. It was rescued from demolition, transported here, and restored by the PWC Historic Preservation Division in 2005. The house and side garden represent the life style of the Hailsip and Hall families who were middle class, farming families in the 19th century in Prince William County.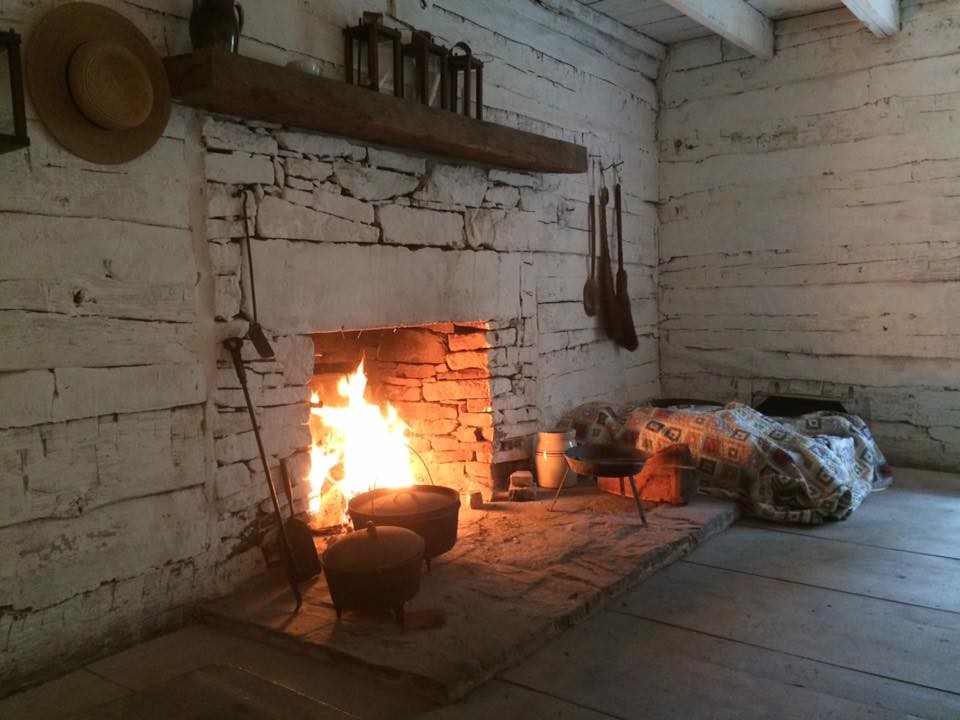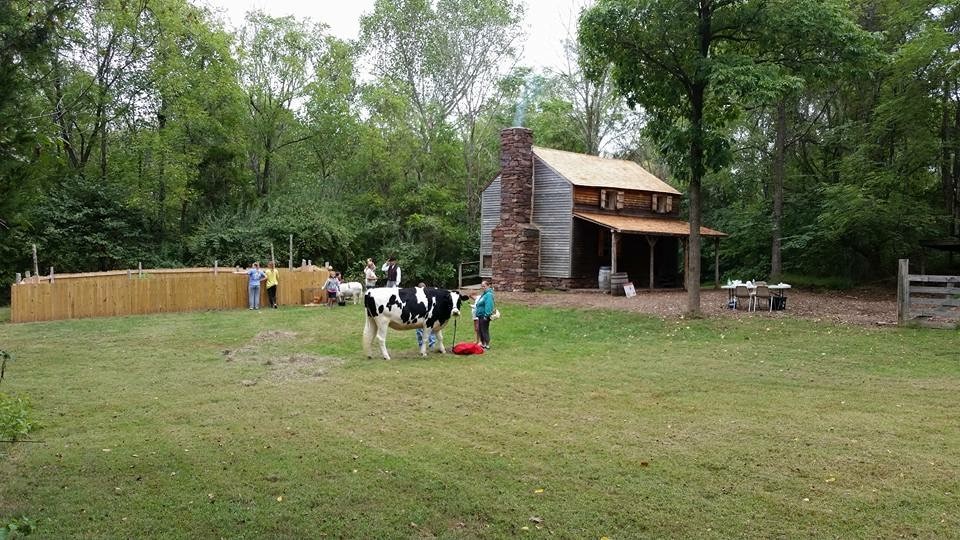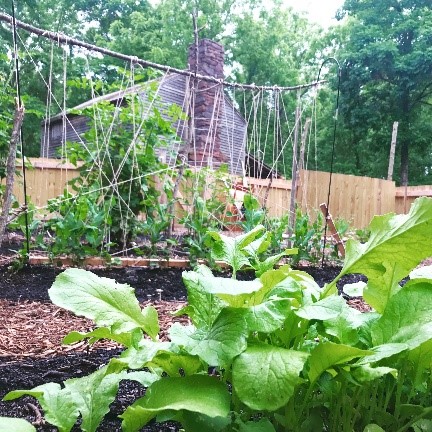 Visit the Haislip-Hall Farm House and garden to learn more about family life in the mid-1800s.
Union Church
THEN & NOW
Brentsville Union Church was built ca. 1880 and sits on a lot deeded to The Trustees of the Union Church in 1871 by George M. Goodwin, who owned Tavern Square. It was erected "for the use of the Congregation of the Methodist Episcopal Church south, the Presbyterian Episcopalian, the New and both branches of the old school Baptist Churches, worshiping in Brentsville".
Now the church is available for special occasion rental, please see more information here.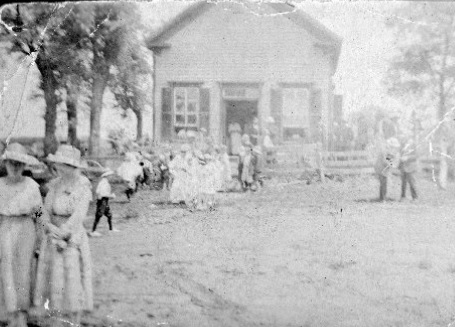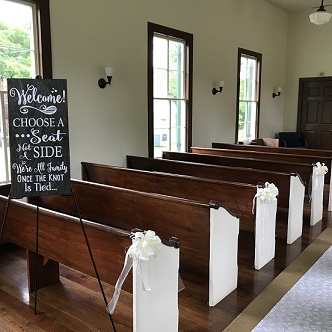 Brentsville in the Civil War
Brentsville was the seat of Prince William County during the Civil War. In response to John Brown's raid on Harper's Ferry in 1859, the Prince William Cavalry (Co. A Virginia Cavalry) formed here, on the courthouse lawn in January 1860. The ladies of Brentsville made a flag and presented it to the company. Other Confederate units from Prince William County such as Ewell Guards (Co. A. 49th Virginia Infantry) also organized and drilled here.
Like many Virginian towns, Brentsville suffered heavily at the hands of both armies. Confederate General Eppa Hunton, a Brentsville resident and lawyer, had his house and other buildings destroyed. The Hampton Legion, among other units, posted here on scouting missions. Several homes and churches served as hospitals. The county clerk's office was torn down and its bricks used for camp chimneys. Part of the ca. 1822 courthouse roof was torn off and many county records were either destroyed or taken by soldiers as souvenirs. Capt. Andrew McHenry of the 13th Pennsylvania Infantry wrote of Brentsville in 1864 "the houses generally are in ruin."
The Battle of Bristoe Station fought three miles west on Oct. 14 1863 brought combat to Brentsville's doorstep. During the battle, Federal General John Buford's cavalry posted here to protect the Federal supply train. Confederate partisan units operated in Brentsville until the end of the war.
Nature Trail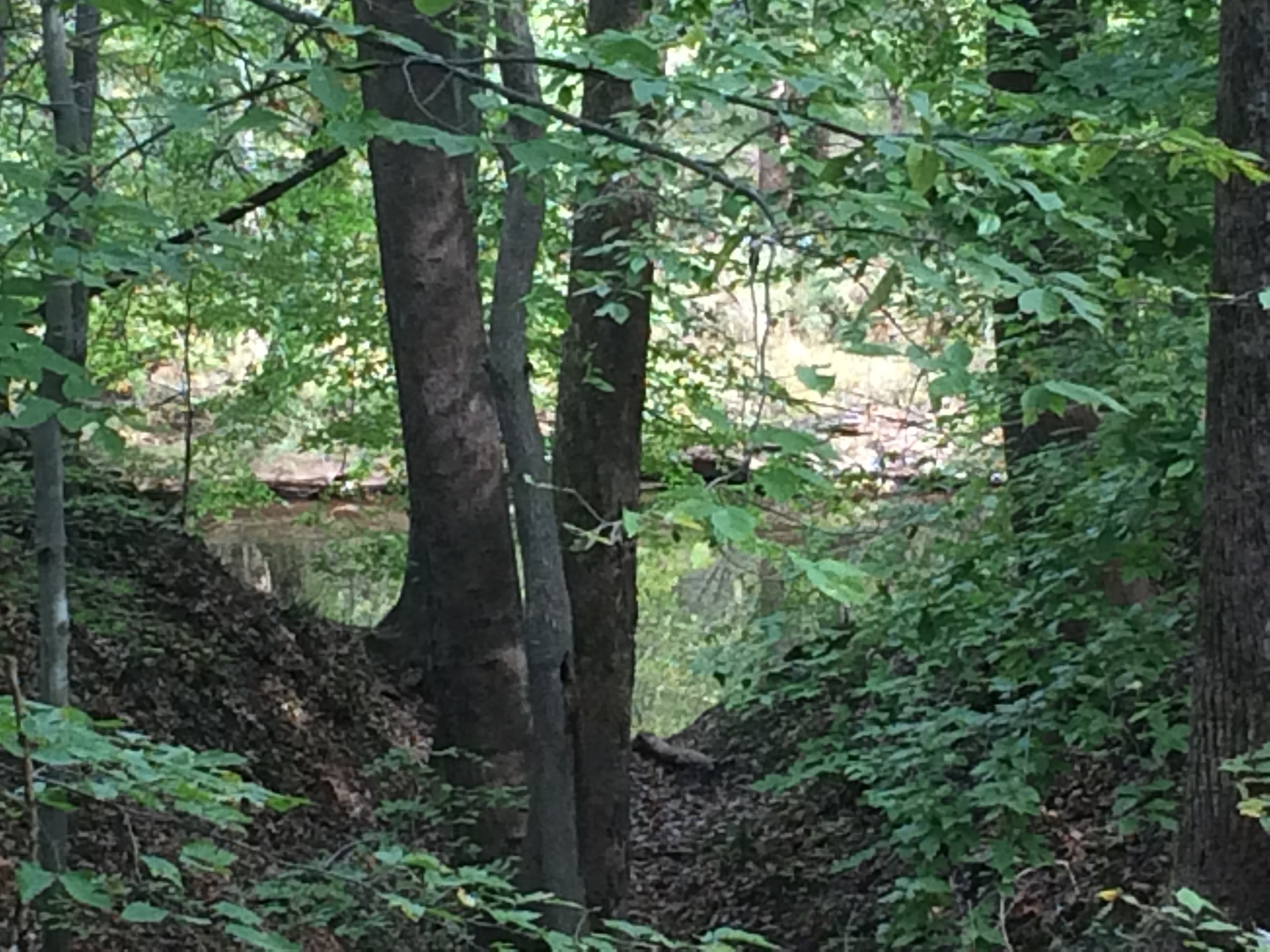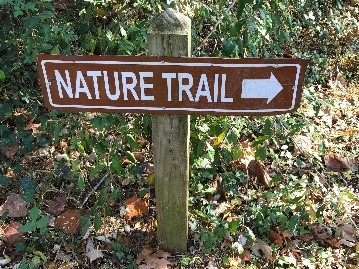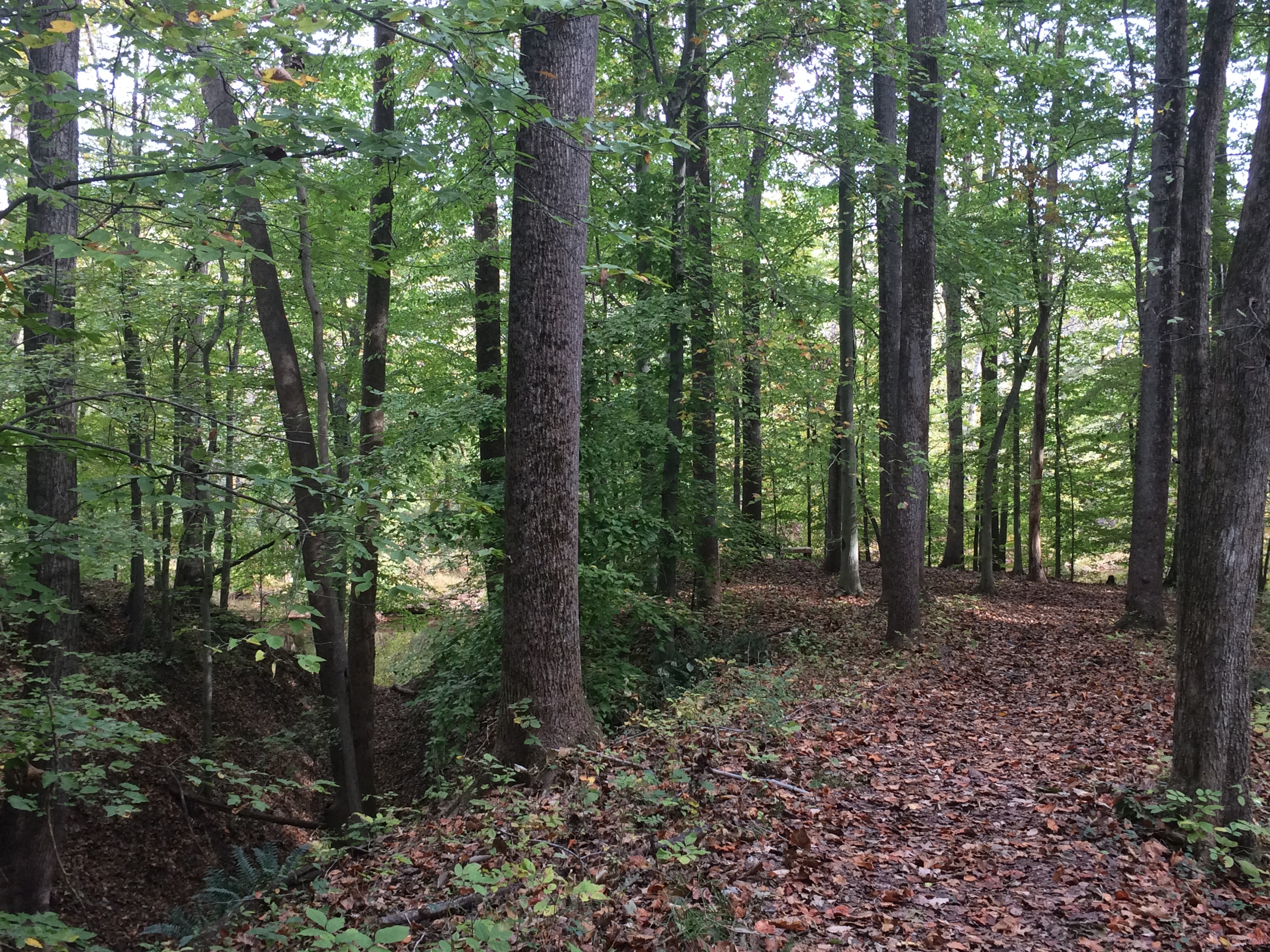 A mile-long nature trail traverses the forested section of the park and reveals a scenic view of Broad Run. This historic site also offers many acres of open space for family picnics or a peaceful spot to read a book.
Brentsville Trail Guide
Connect to our local natural resources and learn more about the animals, water and land in our community with a fun activities guide. You can pick up the Brentsville Trail Guide at the Brentsville Courthouse Historic Centre or print a copy at home. Earn a free wristband when you complete the Brentsville Trail Guide.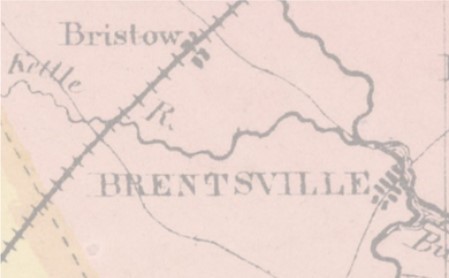 Visiting Brentsville Courthouse Historic Centre
From Interstate 95: Take Rt. 234 North (Exit 152B); travel seven and a half miles and make a left onto Independent Hill Drive. Then make your immediate right onto Bristow Rd. Brentsville is five miles on the right.
From Interstate 66: Take Rt. 234 South (Exit 44); travel 4.5 miles and turn right onto Rt. 28 south (Nokesville Rd.). Travel 1.5 miles and make a left onto Rt. 619 (Bristow Rd.); Brentsville is four miles on the left.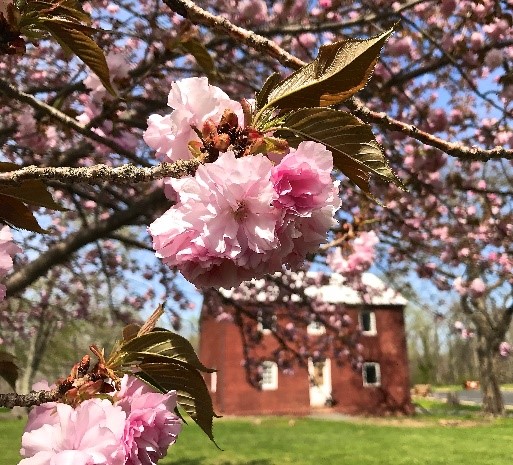 Programs for School and Youth Groups
Educators and Youth Group Leaders are invited to Brentsville for special Programs for Students and youth groups. We offer a variety of activities to help youth gain an appreciation of days gone by and historical perspective on the lives of Prince William residents.
Brentsville Timeline
1686 Brent Town Grant made by King James II to Brent family including present location of Brentsville
1779 Commonwealth of Virginia confiscates the land from the Bristow family due to their British loyalties
1779-1820 Land was rented by the Commonwealth for farming and timber
1820 Town of Brentsville established by the Virginia General Assembly as the new Prince William County seat
1822 Brentsville courthouse, jail, clerk of court's office, and tavern completed
1853 Samuel Haislip built a new farmhouse off of Vint Hill Road now located on Brentsville site
1861 (April 1) Prince William County magistrates vote to endorse Virginia's secession
1862 (March 3) Last day of court in Prince William County until end of war
1870 (Oct. 17) First County Board of Supervisors meeting in courthouse with five supervisors
1874 Brentsville Union Church completed
1893 County seat moved to Manassas
1928 Brentsville one room schoolhouse built for grades 1-5 school was previously held in the courthouse
2004 Prince William County Historic Preservation Division assumes management of site
2006 Courthouse and Union Church restored
2008 Haislip/Hall house restored
2010 Jail stabilization begins
2017 Jail reopens for tours
For More Information Contact:
Brentsville Courthouse Historic Centre
12229 Bristow Rd.
Bristow VA 20136
(703) 365-7895
[email protected]
For more information on historic resources in the Prince William County area click here.