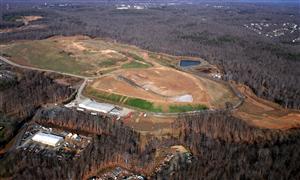 Please read the Solid Waste COVID 19 restrictions and guidance before visiting the Landfill or Ball Ford Road Compost Facility. 
The Department of Public Works operates the approximately 1000-acre sanitary landfill.  Through the wise use of this space, we can ensure the community has a place to dispose of waste for many years.  We strive to extend the life of the landfill through strategies to reduce, reuse and recycle waste.​
SERVICES AND PROGRAMS
The landfill is a valuable resource and our homefield for managing the community's trash. By reducing waste and recycling, we can save valuable space at the landfill so it can serve our community's trash disposal needs for many years to come. This saves us money too! Now, that's a true homefield advantage! Click here to take a virtual landfill tour.

Specific Programs and Special Considerations
Medical/Other Waste – The PWC Landfill does not accept regulated medical waste, radioactive material, ammunition or asbestos. Call (703) 792-5750 (TTY:711), and then press 5, for information on disposal of these materials. The Department of Environmental Quality and the Environmental Protection Agency, as well as other sources, may have more information. You can also call the Prince William Environment Health Office of the Virginia Department of Health at (703) 792-6310 (TTY:711) for assistance.
Sharps/needles - Neither the Landfill nor the Ball Ford Road Facility accepts large quantities of sharps and needles as part of the household hazardous waste collection. However, we do accept sharps and needles from residents only at the Landfill during regular operating hours. Bring needles to the checkpoint at the Convenience Center where you will be directed to a designated container. Sharps and needles are not accepted at the Balls Ford Road Facility at any time. The Environmental Protection Agency (EPA) provides guidelines for safe disposal of medical waste at home and more information on Safe Disposal of Needles.
Tires - Up to four (4) tires (no commercial truck or oversized tires) are accepted from residents at no charge. For more than four tires there is a charge of $2.00 per tire. Loads of more than 10 tires will be weighed and charged the appropriate per ton fee. Businesses must pay for disposal of all tires.
Construction and Demolition Debris (C&D) - The County limits C&D disposal at the landfill because it is bulky and takes up a large amount of space. By restricting construction debris, the County can save valuable space for future municipal disposal needs. The Solid Waste Fee does not include disposal of large amounts of construction and demolition debris. PWC residents may dispose of small amounts of Construction and Demolition Debris (C&D) from home improvement projects. There is no charge for regular size pick-up truck loads.

Businesses and contractors may drop off small amounts of C&D up to a regular-size pickup truck (2.5 cubic yards) load for $25.00. Payment can be made by cash (no bills larger than $20), credit card or check. For information about disposing of or recycling large amounts of construction and demolition debris see this alternative disposal listing or call (703) 792-5750 (TTY:711) to get more information. Violations carry penalties and fines.

A Builder's Guide to Reuse & Recycling has been published by the Metropolitan Washington Council of Governments (MWCOG). This guide also contains information about why you should recycle, the basics of C&D recovery, tips for job site collection, etc. Businesses and contractors may also consult the Internet or phone book for a list of C&D disposal facilities in the area.