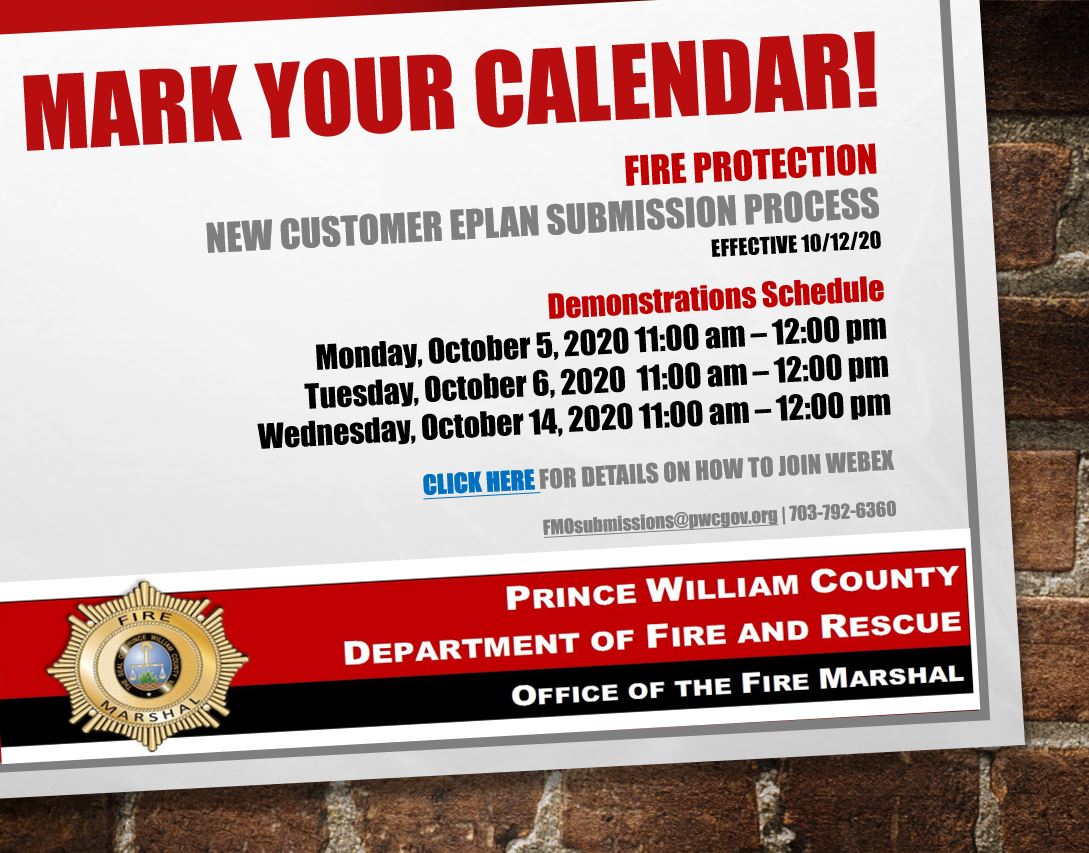 Introduction
In response to the Coronavirus (COVID-19) to streamline the submittal process, the Fire Marshal Office under the guidance of the Building Development Division has established an interim electronic plan review program (ePlans). Please use the following guide to prepare and submit documents for electronic plan review.
Please note: Electronic plan review will not start until fees are paid and the submittal meets the requirements of this guide. Failure to pay fees or meet requirements of this guide will delay the plan review process. Once the plan submission is QC accepted customer notification of the payment amount will be sent. If payment is not received within two business days, the plan submission will be QC denied for no payment.   FMO ePlans Guide can also be found HERE.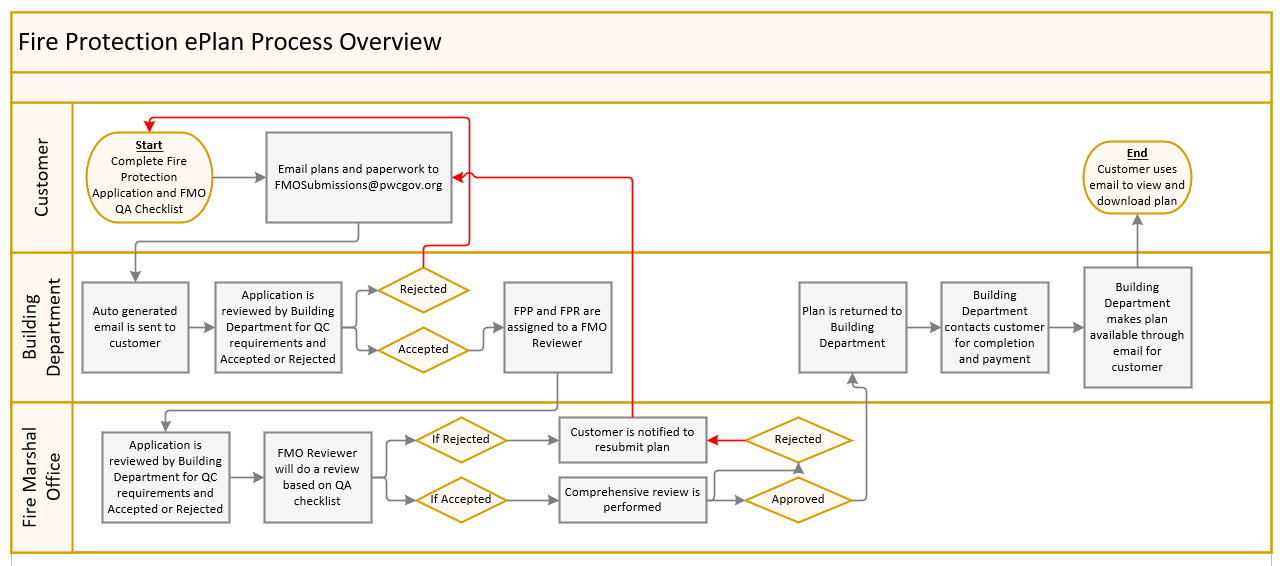 Submittal Checklist
Submittals for electronic plan review must meet the minimum requirements below.  For assistance, please contact Plan Intake at 703-792-4040 or [email protected]
     Drawings must include these items to be accepted by Plan Intake:
     Submittal Checklist for New Submittal / Resubmittal/ Revision:
☐  Address Validation/Assignment Approval shall be issued by GIS prior to acceptance by the Building Development Division for standalone Fire Protection Permits. Address validations are processed online, via email only. Please contact 703-792-6840 or [email protected] Find more information here.
☐  File names meet the File Naming Convention requirements
☐  Plans meet Credentialing requirements including seal, signature, and date
☐  Plan set is a single PDF file (plan, manufacturer cutsheets, etc.)
☐  Plan set is a PDF file in vector format to allow for measurement
☐  PDF files are not password protected or locked
☐  PDF does not contain layers or comments
☐  Plan sets page size is not larger than 36x48 inches and minimum 1/8" = 1'-0" scale
☐  Drawings must be drawn to an indicated scale or dimension on sheets of uniform size and is readable; 1/8" scale is the smallest scale accepted for system design sheets; plan sets must not exceed a page size of 36x48.
☐  Plan sets have landscape orientation and scanned plans have pages aligned
☐  To allow for County digital review stamp on plans provide a clear space of 2" x 2" on top right corner of each drawing
☐  To allow for County digital review stamp on manufacturer cutsheets, provide a table of contents listing all materials and specifying manufacturers and models of all fire protection equipment
☐  Resubmissions must include all sheets
☐  Revisions must include all affected pages and indicate changes using revision clouds
☐  Name and address of premises of work being performed
☐  Name and address of contractor performing the work
☐  Company name and contact information identified on the plans
☐  Scope of work is clearly identified.  What type of system; how many devices, etc.
☐  PWC Approved Site Plan indicating location of Sprinkler Riser Room with an exterior door
☐  Must include applicable code and standards; examples:
NFPA 72 2013 (Fire Alarm)
NFPA 13 2013 (Fire Sprinkler)
NFPA 13R 2013 (Residential Fire Sprinkler such as apartments, condos, etc.)
NFPA 13D (Residential Fire Sprinkler for single family homes or some R4s)
☐  Symbols for fire alarm devices or sprinkler heads clearly identified in the legend

☐  Location, type, and quantity of fire alarm devices or sprinkler heads shall be clearly indicated

☐  Include equipment specification sheets for all equipment to be installed/altered or affected by scope of work.  A summary/table of contents of all equipment, devices, etc. which include the specific description, details and model number shall be included.  

Is this a phased project?  Yes ☐  or No ☐  Phases must match architectural plan phases

☐  Provide breezeway underground fire sprinkler piping details when applicable

☐  Provide details for a remote Fire Department Connection (FDC) such as the vault, location, proper drainage, etc. where applicable
File Naming Convention
Files for the first submission, resubmissions, and revisions shall be named in accordance with Table 4 below.
Table 4. File Naming Conventions
| | | |
| --- | --- | --- |
| Document | Submission | Filename |
| Fire Protection Plans | First Submission | Fire.pdf |
| Fire Protection Plans | Resubmission | Fire Resubmission #.pdf |
| Fire Protection Plans | Revision | Fire Revision #.pdf |
Resubmission: Plans, documents, or forms submitted for review to address comments prior to approval, whether in response to original submission comments or comments on a revised plan.
Revision: Amended plans or documents due to items such as, owner changes, field conditions, or similar that is submitted for review after the initial plan set has been approved.
Credentialing
Plans and documents shall be digitally credentialed with an engineer's seal or NICET certification.
Payments
Payments may be made via ePortal (preferred), phone at 703-792-6930, or by mailing a check.  Paying fess with a check via mail will delay the plan review process.  No cash is accepted.
To pay via ePortal you must have an ePortal account.  Please see the Contact Information Form at eservice.pwcgov.org/eBuildingDevelopmentForms/. 
For assistance, please contact Plan Intake at 703-792-4040 or [email protected].