Project Lifesaver was established in April 1999 as an initiative of the 43rd Search and Rescue Company of the Chesapeake Sheriff's Office. Project Lifesaver's mission is to use state of the art technology in assisting those who care for victims of Alzheimer's and other developmental disabilities and victims who become lost. These victims include the elderly and even the youngest in our community who are afflicted with Down Syndrome and Autism. Clients with developmental disabilities tend to wander from their homes. Project Lifesaver places personalized radio transmitters on identified persons with developmental disabilities. These transmitters assist caregivers and local emergency agencies in locating those who cannot help themselves. Funding for Project Lifesaver is the result of private and corporate donations and grants, staffing for the program is mainly volunteers. Donations are used directly for programs, rescues and expenses.
The Need
More than five million people in the U.S. have Alzheimer's and related disorders. That number will triple by 2050. Well over 50% of these people will wander and become lost. A lost individual with Alzheimer's represents a critical emergency. They are unaware of their situation. They do not call out for help and do not respond to people calling for them. Nearly half of them will die and many can become injured or fall victim to predators if they are not located within 24 hours.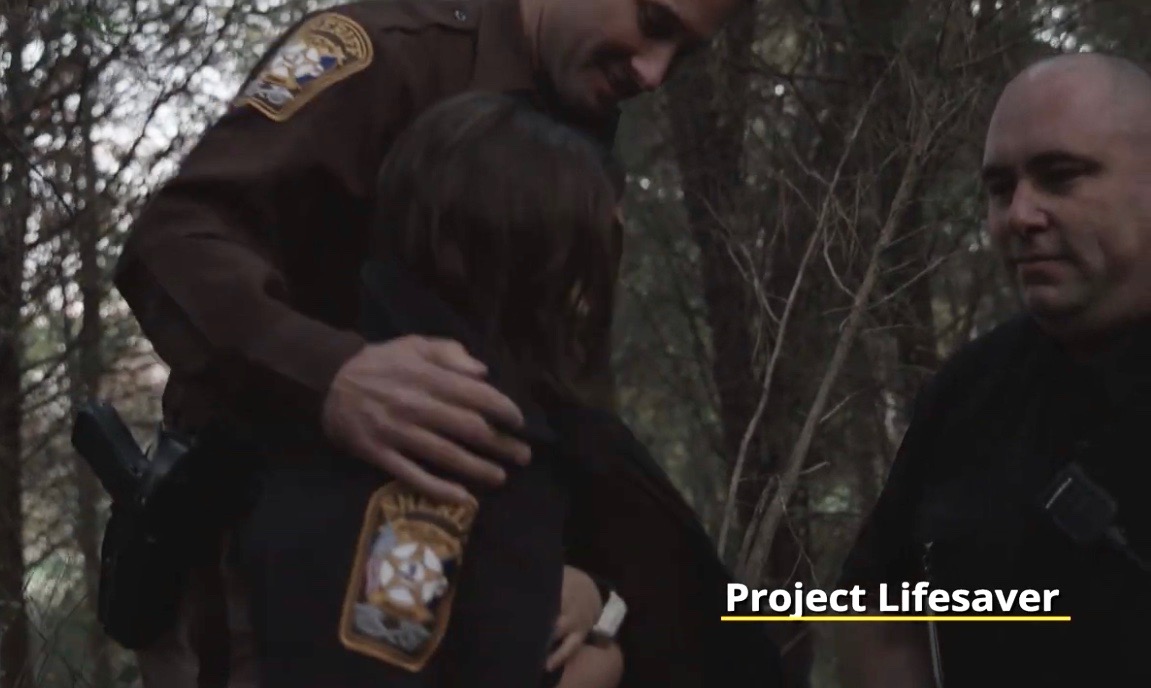 The number of families and communities experiencing this risk will grow dramatically in the coming years.
Project Lifesaver, a nonprofit organization, has become internationally recognized as an aggressive and proven program that saves lives. It is not a registry system. It is an active response to the problem of locating wandering patients before they fall victim to the elements, accidents or predators. Sponsors are welcome. Please call 703-792-6070.
Response
People who are part of the Project Lifesaver program wear a personalized wristband that emits a tracking signal. When caregivers notify the local Project Lifesaver agency that the person is missing, a search and rescue team responds to the wanderer's area and starts searching with the mobile locator tracking system. Search times have been reduced from hours and days to minutes.
The Project Lifesaver wristband is much more than a passive ID bracelet.
It is a one-ounce battery-operated wrist transmitter emitting an automatic tracking signal every second, 24 hours a day.
The signal is tracked on the ground or in the air over several miles. As each wristband has a unique radio frequency, the Project Lifesaver search team positively locates and identifies the person who has wandered away from home or care facility.
Care
Project Lifesaver belongs to each community. It's all about people and partnerships. Local law enforcement, civic groups, businesses and caregivers join together in developing and strengthening all aspects of the program, including rescues, fundraising and education. Project Lifesaver emphasizes relationships between team members and the people who may wander before the need may arise for a rescue.
Team members visit the home of the bracelet recipient to install the transmitter and make regular visits to maintain the equipment. Team members are specially trained, not only in use of the electronic tracking equipment, but especially in the methods to communicate with a person who has Alzheimer's disease or a related disorder.
Locating the individual is only part of the mission. The person located may be disoriented, anxious and untrusting.
The Project Lifesaver team knows how to approach the person, gain their trust and put them at ease for the trip home.
Sponsors
Lockheed Martin
Prince William Hospital Foundation
Organizations & law enforcement agencies who pledge their support for Project Lifesaver.
Prince William County
Manassas City
Manassas Park
Alzheimer's Foundation
United Way
Virginia Sheriffs' Association
National Sheriffs' Association
To apply to be a Project Lifesaver client, please click the link for the form projectlifesaver.org.

Click here for the Application
Click here for Personal Data Questionnaire
The application, questionnaire and a letter from the clients primary care physician detailing the clients medical diagnosis must be completed, mailed or dropped off at the Sheriff's Office.
For further information on the Prince William County Sheriff's Office Project Lifesaver please call 703 792 6110