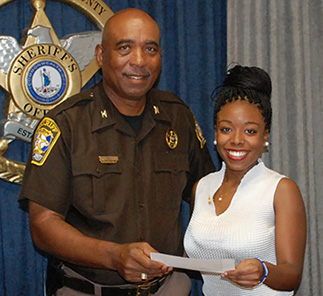 Each year, Sheriff Glendell Hill announces  when online applications are being accepted, for the Virginia Sheriffs' Institute (VSI) Scholarship program. This scholarship was established to provide an opportunity for young people across Virginia to pursue an educational curriculum in criminal justice. Accordingly, the Board of Directors has established the application process for students to receive scholarships to assist in their educational endeavors. The scholarships are available only to students in jurisdictions where sheriffs participated in the scholarship fundraising efforts. This program is limited to students attending Virginia colleges and universities.
2020 VSI SCHOLARSHIP RECIPIENTS:
| | | |
| --- | --- | --- |
| Student Name | Graduate Of | College/University Attending |
| James K. Bocompani | Brentsville H.S. (2018) | Radford University |
| Abigail A. Houchin | Battlefield H.S. (2019) | Virginia Commonwealth University |
| Chloe F. Martin | Colgan H.S. (2020) | Radford University |
Sheriff Hill, Chloe F. Martin, and Abigail A. Houchin
Scholarship Program Policies:
1. Eligibility
a. Students must be a permanent resident in a Virginia county or city where their sheriff is a member of the Virginia Sheriffs' Institute and has authorized VSI to conduct mailings to raise funds for the scholarship program.
b. Students, 18 and older, must be registered Virginia voters and provide a copy of their voter registration card. Students under 18 are required to provide a copy of their picture ID with their home address, providing proof of residency.
2. Applications are  now available on the Virginia Sheriffs' Institute website. To access the 2021 online scholarship application, please click here VSI Scholarship Information
3. Applications must be submitted online with all the required information by May 1, 2021. The deadline will be adhered to.
4. Two types of scholarships will be awarded, scholarships for FULL-TIME students and scholarships for PART-TIME students. (Multiple students may qualify for awards.)
5. Only majors in the criminal justice field will qualify for a scholarship.  Those majoring in law or pursuing a career as a lawyer are not eligible.
6. Only students attending  Virginia colleges or Universities for the 2021-2022 school year will be considered.
7. Applications must be completed online and electronically signed, or the student will not be considered.  This includes a letter of recommendation from the individual sheriff from your home region. If you are a Prince William County resident, please contact the Prince William County Sheriff's Office at (703) 792-6070 to schedule an appointment  with Sheriff Hill  to receive his letter of recommendation.  
8. Certificates of award will be mailed to the individual sheriff's office by the end of May 2021. 
9. Upon verification by the students of chosen college/major, checks will be made payable to the educational institution indicated.  College or University student IDs will be required to issue a scholarship check.
10. Letters of rejection will be mailed to students directly from the VSI office.