We continue to evaluate operating schedules in light of the impacts of COVID-19. As such, patrons who are unvaccinated or not fully-vaccinated are strongly encouraged to wear masks. If you have or recently had fever, cough, or shortness of breath please make the decision to stay home. Prince William County Parks, Recreation & Tourism along with the Office of Historic Preservation's COVID-19 Operating Information.
Rippon Lodge Historic Site is open for tours Friday-Monday at 11am, 1pm and 3pm. Grounds are open from dawn to dusk.
Tours: $5, free for children under six. For Education Field Trips, the cost is $6 per student and accompanying adults are free (reservations required). Please visit our Education Field Trips page.
The home provides a vital connection and opportunity to interpret our community's link to Colonial Virginia. The site's story includes important people, events and times in Prince William History. Stop by and step back in time to experience a home and setting that has been around since 1747.
Rippon Lodge History
Built circa 1747 by Richard Blackburn, the house is situated between Neabsco Creek, the Potomac River, and the historic King's Highway (present day Route 1). Mr. Blackburn, and his son Thomas, had extensive land holdings in the county where they grew tobacco, wheat, and other commodities. With the home located just north of the bustling port town of Dumfries, the Blackburn's could easily export their goods and merchandise to England. Mr. Blackburn and Thomas were both active in local politics, and Thomas served in the Revolutionary War as a militia member. Through the Blackburn Family our site has a familial connection to the Washington's of Mount Vernon, as one of Thomas' daughters marries Bushrod Washington, George Washington's nephew.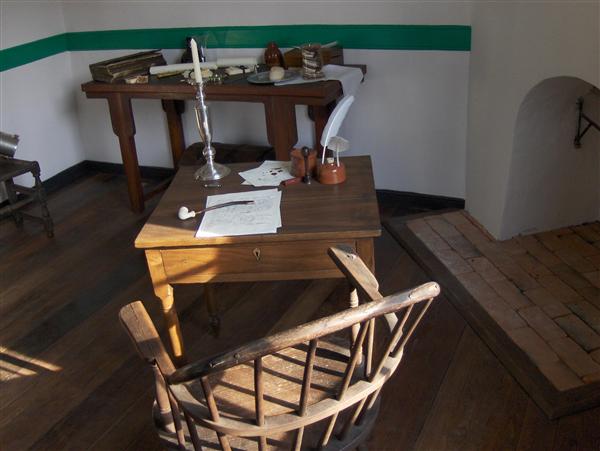 By 1842, the Atkinson Family called Rippon Lodge home. They owned the house, for about 90 years, and during the Civil War, before the property was sold to the Marron Brothers in 1911. However, by 1923, Wade H. Ellis and his wife Dessie, purchased the home, along with 500 acres of land, and began extensive renovations to the home, turning it into the Colonial Revival residence visitors see today. Mr. Ellis, a prominent lawyer from Washington D.C., is regarded as being responsible for preserving much of the history of Rippon Lodge.
Admiral Richard Blackburn Black, the last private owner of Rippon Lodge, purchased the home in 1952, and continued to preserve the home and history as Wade Ellis had. Admiral Black was a direct descendent of the original builder Richard Blackburn, and has been linked to many important historical events, including his exploration of Antarctica with Admiral Richard Byrd. Admiral Black's daughter sold the property to Prince William County in 2000.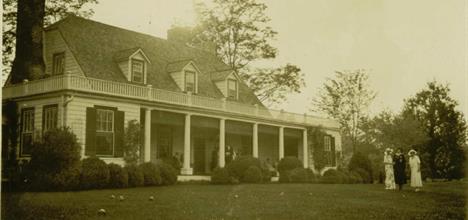 Extensive restoration work began at Rippon Lodge soon after, and was completed in 2007 when the site opened for public tours. Rippon Lodge Historic Site consists of 43-acres, the Blackburn and Atkinson Family cemetery, formal gardens, and walking trails. The site interprets the history of the house and owners from 1747 to 2000. Visitors are welcome to stroll the grounds, trails, and gardens, and enjoy the stunning views of the Potomac River for boat and bird watching of all kinds.
Rippon Lodge, circa 1934
Stewards of Historic and Environmental Resources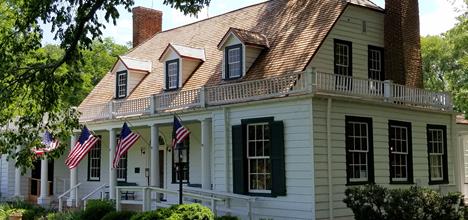 Staff with the Historic Preservation Division serve as leaders in protecting our community's historic and natural resources. We play an active role in the protection, preservation and restoration of the environment under our care. We establish meadows on our properties, support honey bees and other pollinators, look for ecologically friendly ways to mow and maintain the grounds, and use trees from sites to mill our own lumber for our restoration projects.
Rippon Lodge is proud to serve as a bee sanctuary to help bee populations recover and increase in numbers. Learn more.
Rippon Lodge Time Line
1747 Rippon Lodge built by Richard Blackburn
1757 Thomas Blackburn inherits Rippon Lodge
1772 Thomas Blackburn elected to the Virginia House of Burgesses
1785 Julia Ann Blackburn marries Bushrod Washington
1811 Bushrod Washington sells Rippon Lodge to George Atkinson
1911 Thomas Marron purchases Rippon Lodge
1923 Wade Hampton Ellis purchases Rippon Lodge
1952 Admiral Richard Blackburn Black purchases Rippon Lodge
2000 Debra Black Decko sells Rippon Lodge to Prince William County
2007 Rippon Lodge opens
Volunteers Needed!
We are looking for History and Garden Enthusiasts to help lead tours at this lovely site. If you are interested in joining our team to protect the historic and natural resources of our community, please contact us at (703) 499-9812 or visit our volunteer page.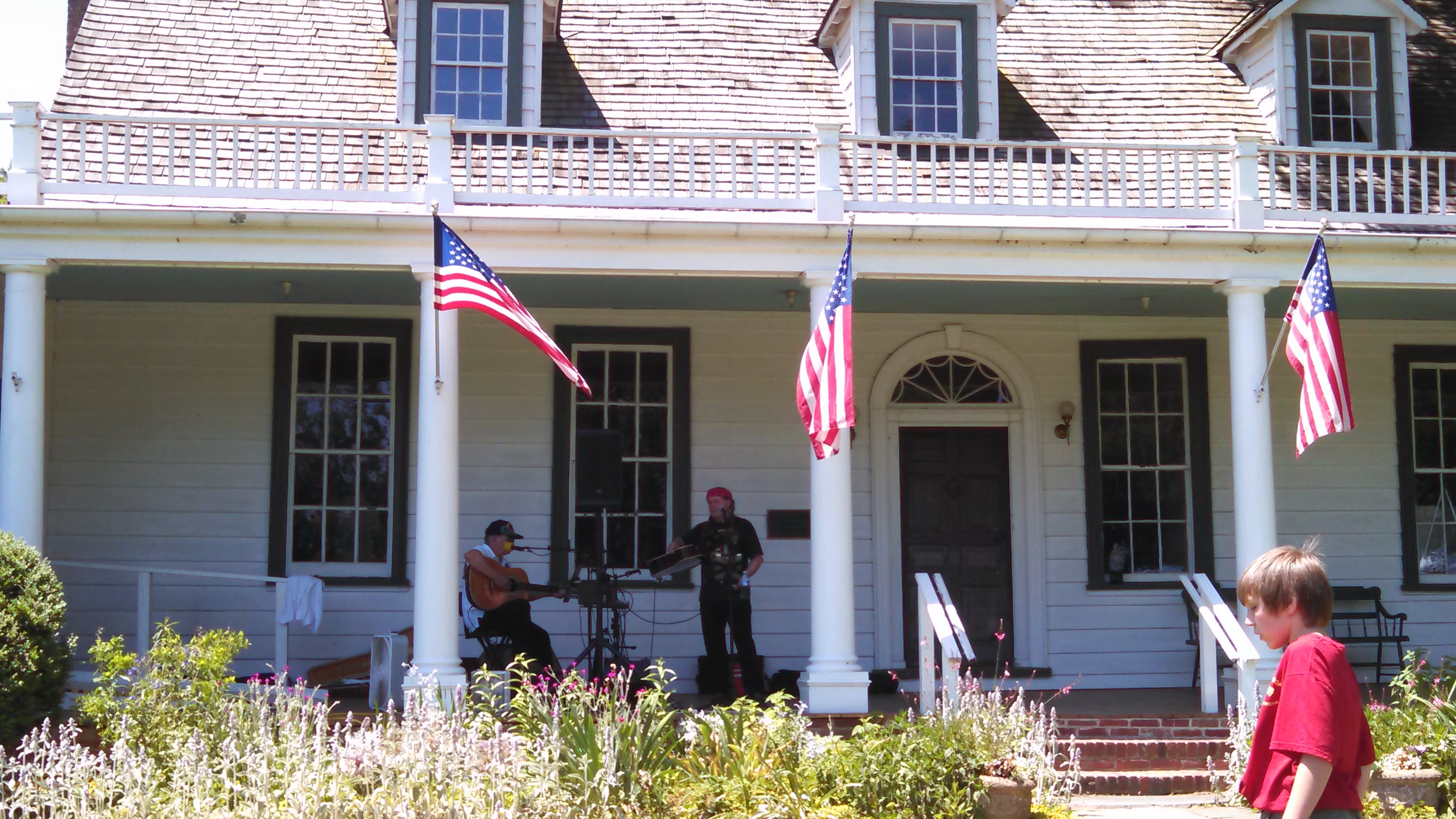 Join Us For a Virtual Tour
You are invited to take a virtual tour of Rippon Lodge with local historians to discover the grandeur and importance of this important colonial home.
Rippon Lodge is listed on the National Register of Historic Places, and is a participating member of the Historic House Museum Consortium of Metropolitan Washington DC. Please visit their website below to learn about over 40 historic house museums in Virginia, Maryland, and Washington DC, including Mount Vernon, Riversdale White House, and many more! www.dchousemuseums.org
Visiting Rippon Lodge
Tours of Rippon Lodge are offered May through October from 11am until 4pm Thursday through Monday and by appointment. Grounds are open sunrise to sunset. Special events, programs, and tours are offered throughout the year. We provide Passport Stamps for the Potomac Heritage Trail, and a National Park Service trail that runs from the Allegheny Highlands to the mouth of the Potomac River at our gift shop.
We offer very popular luncheons. These lunches may be served indoors or picnic style, just perfect for small groups of any kind! Call for reservations.
For information about tours and programs contact: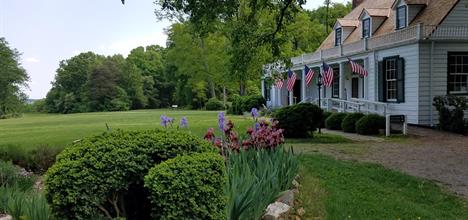 Rippon Lodge Historic Site
15520 Blackburn Road
Woodbridge VA 22191
(703) 499-9812 or (703) 792-4754 (main office)
Directions:
From Interstate 95: Take Exit 156 (78 E/Dale Boulevard) toward Rippon Landing. Follow Rippon Boulevard across Jefferson Davis Hwy./Rt.1. Turn right onto Blackburn Road. Travel ¼ mile and turn right onto Admiral Black Drive.
From Rt. 234: Turn left (north) onto Jefferson Davis Hwy./Rt. 1. Travel 2.9 miles and turn right onto Blackburn Road. Drive approximately one mile and turn left onto Admiral Black Drive.
For more information on historic resources in the Prince William County area click here.