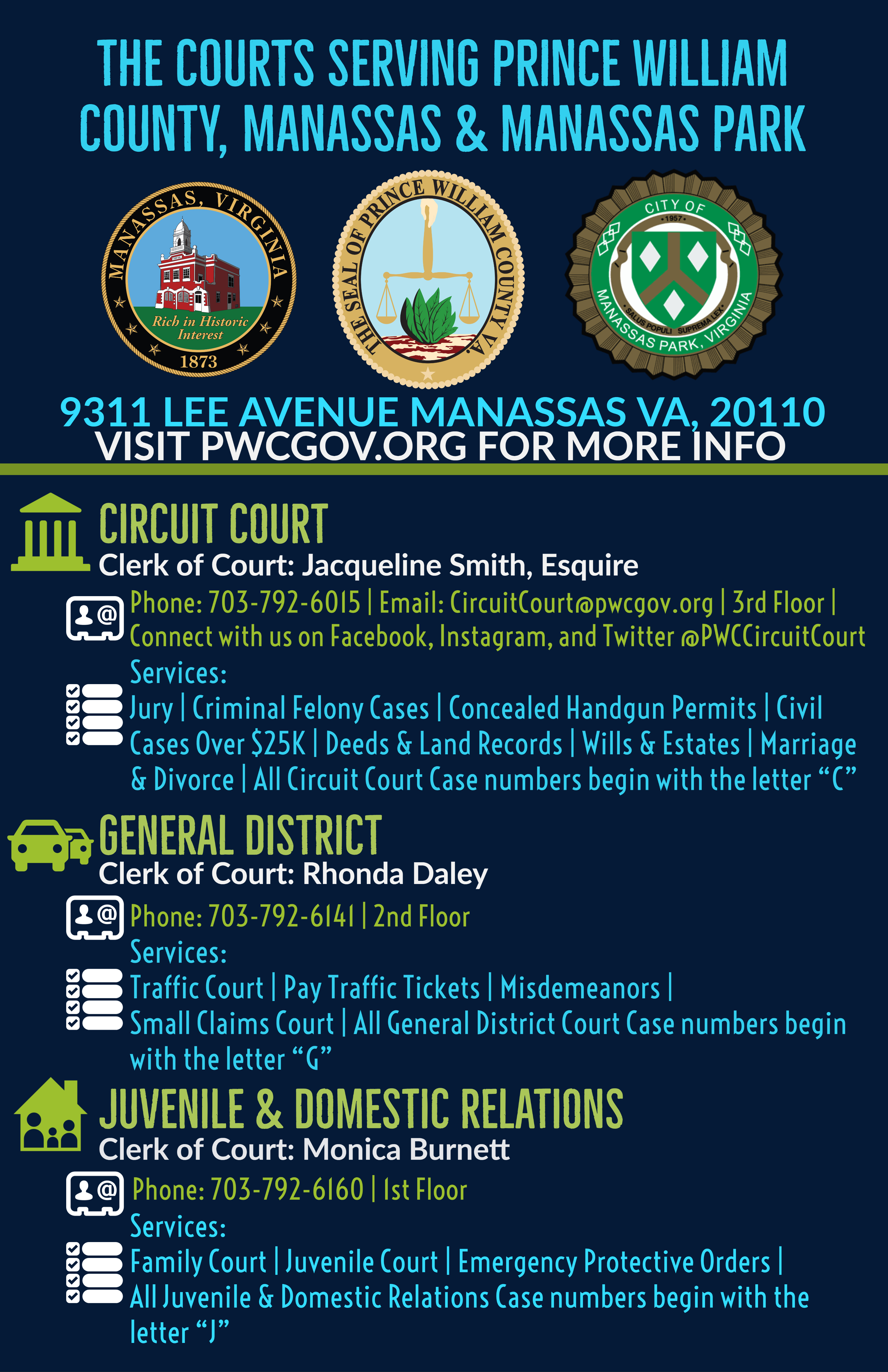 Which Court?
There are 3 separate courts in the Courthouse (Judicial Center):
The Circuit Court is on the third floor of the Courthouse (Judicial Center).
The General District Court is on the second floor of the Courthouse. (Traffic/Criminal 703-792-6141, Civil 703-792-6149 and Archives 703-792-6152)
The Juvenile and Domestic Relations (J&DR) Court is on the first floor of the Courthouse. (703-792-6160)
Circuit Court case numbers begin with a "C". General District Court case numbers begin with a "G". J&DR Court case numbers begin with a "J".
The Circuit Court Clerk's Office cannot assist with General District and J&DR Court matters.
Note: The following are excerpts from Virginia Courts in Brief.
---
The only trial court of general jurisdiction in Virginia is the Circuit Court. The Circuit Court has jurisdiction over the following:
Civil Actions:
monetary claims greater than $4,500 but not exceeding $25,000 concurrent jurisdiction with general district courts
monetary claims exceeding $25,000 exclusive original jurisdiction
validity of a county or municipal ordinance or corporate bylaw
Criminal Cases:
all felony offenses that may be punished by commitment to the state penitentiary
misdemeanor charges originating from a grand jury indictment
transfer or certification of felony offenses committed by juveniles
Appeals:
appeals from the General District Court or J&DR District Court (heard de novo)
appeals from administrative agencies
These courts also handle any case for which jurisdiction is not specified in the Code of Virginia.
At the beginning of each term of the circuit court a grand jury is convened. These juries serve two purposes. First they consider bills of indictment and second they determine whether there is sufficient probable cause to believe that a person accused of having committed a serious crime did commit such crime and should stand trial. The grand jury does not hear both sides of the case and does not determine the guilt or innocence of the accused.
A special grand jury is convened to investigate any condition which tends to promote criminal activity in the community or which indicates malfeasance of governmental agencies or officials. This grand jury has subpoena powers and may summon persons documents or records needed in its investigation.
---
The General District Court decides all criminal offenses involving ordinances, laws and by-laws of the county or city where it is located and all misdemeanors under state law. A misdemeanor is any charge which carries a penalty of no more than one year in jail or a fine of up to $2,500 or both.
The Code of Virginia defines criminal offenses and sets penalties. For many offenses the penalty described is a fine. Fines collected for violations are paid into the treasury of the city town or county whose ordinance has been violated or into the State treasury for a violation of state law. In order to offset the cost of operating the courts, the General Assembly has established a processing fee which is charged to every convicted defendant. Monies obtained from this fee are paid into the state treasury.
The district courts do not conduct jury trials. All cases are heard by a judge. Each defendant in a criminal case is presumed innocent until proven guilty beyond a reasonable doubt. Upon consideration of evidence the judge decides the question of guilt or innocence and on a finding of guilt determines which penalty as set by the Code is proper and lawful.
The general district court decides civil cases in which the amount in question does not exceed $25,000. Civil cases vary from suits for damages sustained in automobile accidents to suits by creditors to receive payment on past due debts, including landlord/tenant. In Virginia claims for less than $4,500 can be initiated only in general district courts. A separate small claims division has jurisdiction over civil actions when the amount claimed does not exceed $5,000.
The general district court also hears cases in which a person is charged with a traffic infraction offense. If convicted of certain traffic violations, the Virginia Department of Motor Vehicles will assess points against the person's driver's license. This is in addition to any fine imposed by the judge.
The general district court holds preliminary hearings in felony cases; that is any charge which may be punishable by more than one year in jail. These hearings are held to determine whether there is sufficient evidence to justify holding the defendant for a grand jury hearing. The grand jury determines whether the accused will be indicted and held for trial in the Circuit Court.
---
The Juvenile and Domestic Relations District Court in Virginia handles cases involving juvenile delinquency and status offenses:
juveniles accused of traffic violations
children in need of services or supervision
children who have been subjected to abuse or neglect
adults accused of child abuse or neglect or of offenses against member of their own family or household members (juvenile or adult)
adults involved in disputes concerning the visitation, support or custody of a child
spousal support
abandonment of children
foster care and entrustment agreements
court-ordered rehabilitation services
court consent for certain medical treatments
In Virginia a juvenile is any person under 18. A delinquent is a juvenile who has committed an act which would be a crime if committed by an adult. A status offender is a juvenile who has committed certain actions which if committed by adults would not be considered criminal offenses - such as a curfew violation while a "child in need of supervision" is one who engages in truancy or habitually runs away from home. Child abuse and neglect cases involve the improper care or injurious handling of juveniles.
Juvenile courts differ from other courts in their duty to protect the confidentiality of juveniles coming before the court and in their commitment to rehabilitate or treat rather than punish those who come before the court while protecting the community against harmful acts and holding offenders accountable. The welfare of the child and the family the safety of the community and the protection of victims' rights are the paramount concerns in the court's proceedings. Because of confidentiality laws the clerk's office can only provide limited information about a case and then only to those people involved with the case.

As with the general district courts all parties subject to a court order or judgment may appeal the decision to the circuit court. Appeals must be noted with the clerk within 10 days of the court's decision. Cases appealed to the circuit court are reheard de novo (as completely new cases).
Please notify the Circuit Court Clerk's Office by email if you find that any of the links on this page do not work.