The Ruth E. Lloyd Information Center (RELIC) is a special collection devoted to genealogy and local history with a focus on Virginia and Prince William County. Located at Central Library, is staffed the same hours as the rest of the Library. The staff are trained to help customers locate information needed to trace their family history and to research persons, places and events associated with local history. The American Revolution and the Civil War as they relate to Virginia are of special interest.
RELIC houses a wide variety of materials related to its mission, including published and manuscript materials, indexes and research guides, photographs, maps, microforms, and computer (CD-ROM) databases.
Staff maintain ties with local historical and genealogical societies and with other libraries and agencies with common interests, such as the National Archives, the LDS Family History Library, and other related organizations.
The collection, known as RELIC, was located at Bull Run Regional Library from 1994 to 2020. It reopened at Central Library in a remodeled space in November 2020.
---
WHO WAS RUTH E. LLOYD?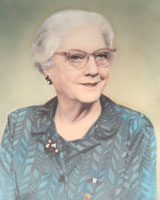 Ruth Emmons Lloyd (1892-1971), a Prince William County civic leader, successfully led the push for the first public library demonstration project funded by the Virginia General Assembly (1952). This became the Prince William Public Libraries, now eleven library locations. She was appointed as the first chair of the Library Board of Trustees and remained a trustee for many years. The Ruth E. Lloyd History Room (Virginiana collection), at Central Community Library, was dedicated in her honor shortly before her death. The room's rededication as the Ruth E. Lloyd Information Center (RELIC) at Bull Run Regional Library (1994) was attended by many of her family. Now RELIC has been relocated back to Central Library.